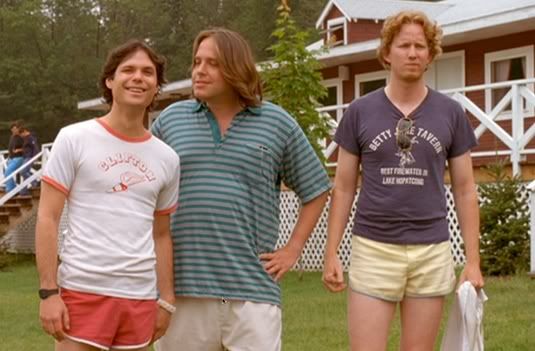 You get a F for today if you've never seen Wet Hot American Summer. Shame on you! It's an f'n classic! The summer camp comedy set in 1981, is chock full of comedians you love. You actually get an F-minus if you've only caught bits and pieces on Comedy Central at 3am once because you were bombed out of your mind, and the TV was already tuned to Comedy Central when you flipped the TV on. That's even more feeble than completely not having seen it at all. With that said, if you are from Jersey you'll greatly appreciate the NJ references, specifically the T-Shirts!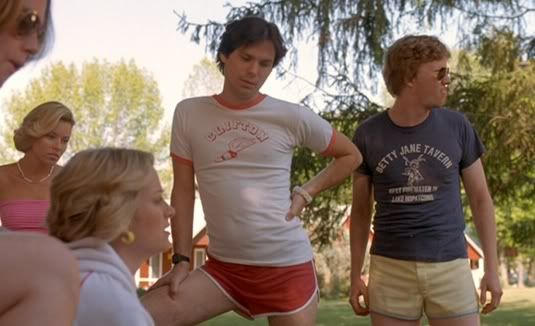 Pictured above is Caped Boy, a possible precursor to Augie in Role Models. This is his studly attempt at enticing the girls at camp: "Excuse me, ladies. You may remember me as the guy who came to dinner a few weeks ago with underwear on my head. My name is Keith Stat from Millburn, New Jersey. State bird, the mosquito. And as you may have heard, I am recently a crowned class B dungeon master. So, if any of you would like to play D&D today, please speak now or forever hold your peace."
Here's a few more reasons why NJ is so prevalent in a film that's supposed to take place in Maine:
Paul Rudd = born in Passaic, NJ
Janeane Garofalo = born in Newton, NJ
Michael Showalter = born in Princeton, NJ
and one of my all time favorites,
Michael Ian Black = moved to Hillsborough, NJ when he was young!
If you enjoyed Role Models, then you'll definitely laugh your ass off at this one. Also look out for one of Bradley Cooper's early roles, you know…that guy from Wedding Crashers…and that other one you may have heard of…The Hangover.
For an awesome blog dedicated to the coolest T-Shirts head over to
Preshrunk.org
.