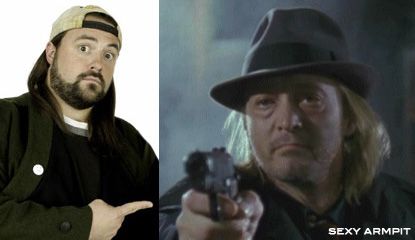 Technically Bob The Goon came way before Silent Bob, so that rejected Wheel of Fortune clue doesn't really work. But it is true that there is a connection between these two beloved Bobs – and it's more than just their names!
Bob The Goon is a character created for the 1989 Batman movie. Played by Jersey City's own Tracey Walter (who has appeared in TONS of films and TV shows), Bob The Goon was The Joker's main lackey. Putting it more simply, he was Joker's NUMBER ONE GUY!!!
5 years after Batman, in 1994, Kevin Smith's alter ego Silent Bob debuted in his own film Clerks. Silent Bob is the quiet, chilled out partner of his friend stoner friend Jay (Jason Mewes) and they later go onto several more cinematic adventures together.
As recently revealed by Kevin Smith on his Fatman on Batman Podcast, Bob The Goon was actually an inspiration for Smith in creating the Silent Bob character. Episode #8 (available on iTunes) is all about The Dark Knight Rises and like all the rest of the episodes – it's totally FREE! You can't beat that, thanks Kevin!
It's pretty awesome that we New Jersey fanboys can be proud that not only Kevin Smith is a local icon,  but Bob the Goon is as well. Read more about Joker's #1 guy in this post.