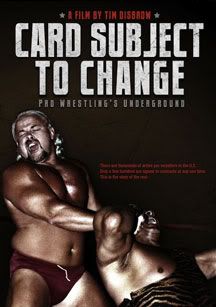 Have you ever passed by a barber shop or a dry cleaner and noticed a poster for a local independent wrestling event? Out of the nearly 20 wrestlers that appear on the poster, occasionally you've heard of at least a few. Events like this are usually much more reasonable than going to a WWE event, and a lot closer, there may even be one this weekend at your local VFW hall. OK, so you won't see John Cena, CM Punk, or Zack Ryder, but it will still be a lot of fun. Even as a lifelong, hardcore wrestling fan, the dedication of indy promoters and wrestlers never ceases to amaze me. What keeps these guys performing at these events? It's definitely NOT the wrestlers paltry payout at the end of the night, it's the devotion for the business.
Since the hype started hitting the Internet a couple of years ago for the indy wrestling documentary Card Subject To Change: Pro Wrestling's Underground, I wanted to see it desperately. I went so far as to email the addresses listed on their official site to find out more info on the film or if I could somehow review it. I never heard back from them. You'd think a mere mention of The Sexy Armpit would elicit some sort of response after the several moments of snickering and confusion clears the air. I forgave the filmmakers since the operation was headed by a fellow Kean University graduate, Tim Disbrow. He directed, produced, and edited Card which is now streaming on Netflix. George "The Animal" Steele had his plush creature "Mine," and Tim has his documentary. Creating a documentary that's actually entertaining and not boring is quite an accomplishment and I have to hand it to Tim for producing a film with such reverence for the business.
Lots of places around the U.S claim to be exclusive hotbeds for professional wrestling. Actually, the truth is that aside from Madison Square Garden, the state of New Jersey has cultivated so many superstars and continues to have tons of indy wrestling shows all throughout the state. This made it easy for Tim to capture scenes with promoter Johnny Falco who runs shows all over New Jersey.
While The Wrestler illustrated the end of Randy "The Ram" Robinson's career, Card Subject to Change shines the spotlight on a broader look at the indy wrestling scene. From the outset, Tim Disbrow's film establishes that there are literally thousands of active professional wrestlers in the country, but probably only around a hundred are signed to full time contracts with the large companies. So DVR the glitz of Smackdown for one night and power up your Netflix. Update your status as "watching a documentary" so they think you're very cultured and intelligent. Meanwhile you'll be seeing the local exploits of some of the most well known indy wrestlers.
Appearing in the film are NJ's Rob Eckos (now Robbie E. in TNA), the late Trent Acid, Kamala, Kevin Sullivan, the late Sensational Sherri in her last interview, ROH's Rhett Titus (Also from NJ),
Necro Butcher (whom you may know from his appearance in The Wrestler), Corvis Fear, and Sabu among others.
At times, Card shows aspects of the indy scene that are far from glamorous. There are a few wrestlers interviewed who are no longer with us and some actually shoot steroids on film, but the train keeps rolling. The show must continue and every now and then you'll come across a kid at one of these VGW halls with a dream who is doing everything in his power to make it big. He or she will be the one to look out for…the next one snatched up by the all mighty Vince.