2011 will go down as one of the best times I've had at New York Comic Con yet. There was a fun vibe going on and less people were in my face begging for attention this year. Attendants seemed to be having a blast as usual. All the interactive displays and photo ops were bigger and better than previous years. The main floor attractions advertised for properties like Star Wars, Marvel, and DC Comics, and your other usual suspects. As for The Sexy Armpit, sure I dabbled in the mainstream stuff, but as usual, most of my time was spent in Artist's Alley.
My first stop was to Laurie B's table. I first discovered Laurie's art several years back while on a Google image search and continued to check her site often. Her artwork reminds me of Disney animation, especially wide-eyed girls like Ariel from The Little Mermaid. Ordering prints from her shop was always something I planned on doing, but when I recently saw she'd be coming to NYCC, I held out. I bought some awesome pieces from her. One piece I've wanted to hang above my toilet for the longest time, to go with my Vigo print on top of my toilet. Then I also picked up a Stay-Puft Marshamllow man holding a cute Ghostbuster girl in addition to The Sorceress from Masters of the Universe, and a cute girl version of Snap, Crackle, and Pop for my kitchen.
You never know what kinds of cool art you'll see when you aren't even looking for it. My meeting with Scott Cooper is a prime example. Scott had the exact type of toonish art that I dig. One piece in particular caught my eye. He had on display an animated version of The Sopranos crew. Imagine The Sopranos had a Saturday morning cartoon show on Nickelodeon! HA! Fuggedaboutit!  I felt that I'd like to buy this print, nay, needed to own it desperately. Once Scott and I got into talking, he mentioned he had 2 different Sopranos prints and he offered a third print of my choice for free. What a guy! Naturally, when I saw a print of Bela Lugosi's Dracula, it was easily my pick.
After getting home and finding his blogspot site, I hit the jackpot. I found out that the Dracula print I brought home was actually from his animated illustration of Abbott and Costello Meet Frankenstein! With 2 classic Jersey icons like The Sopranos and Abbott and Costello, stopping at Scott Cooper's table was an awesome surprise. Check out his illustrations and storyboards at his official site.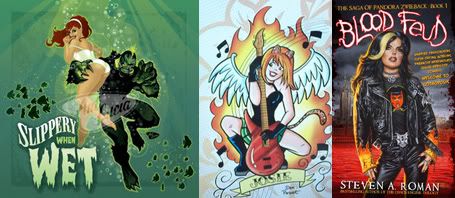 The fun didn't stop there! I bought a few Spookshow Pinups from Ant Lucia, a digital pinup artist who you may know from his retro "Join the Rebellion" propaganda posters featuring Princess Leia. And finally, I couldn't pass up an extremely cool tattoo art style print of Josie from Josie and The Pussycats by Archie artist Dan Parent. I discussed the upcoming ARCHIE MEETS KISS mini-series with him and now I'm even more pumped for it. Can't wait!
Before my go around in Artist's Alley came to an end, I stopped at one last table. The cute leather clad girl on the cover of The Saga of Pandora Zwieback lured me over. I'll admit, the name alone did not compel me to stop and find out more, but the art by Eliseu Gouveia sucked me in. Steven A. Roman, author of X-Men The Chaos Engine Trilogy and Final Destination, Dead Man's Hand, was promoting his new series of novels starring a goth girl named Pandora. The book's tag line reads "Vampire Fashionistas, Paranoid Werewolves, Sugar Addicted Zombies, Welcome to Gothopolis." If it sounds familiar, it might contain some similar ingredients and pop culture references, but this monster slayer story is all newfangled because only Pandora can see the creatures that are converging on the city.
Cooler than Buffy, tougher than the emo wimps in Twilight, Pandora is a teenage goth girl fighting off ghouls and monsters in New York City. She's drawn to be really hot, but the problem is she's underage! Hey Steve – what are you trying to do to us, couldn't you have made her 18? No worries though, if things get inappropriate with your first Pandora experience, feel free to fantasize about her mentor, Sebastienne Mazarin, a chick who's quite attractive for a 400 year-old monster hunter. All this was in the preview comic that Roman handed me (read the comic book HERE), but the novel is the real deal. Since alluding to Pandora's box would be tasteless, why not open up Pandora's book? It's called Blood Feud and it's available now at http://www.pandorazwieback.com/.