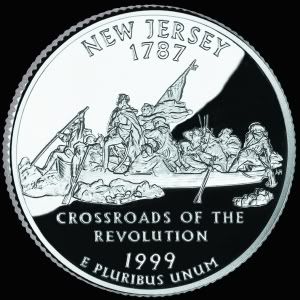 For President's Day, and in honor of the stimulus package getting passed, let's take a look at currency kicked with a dash of Jersey. According to Wikipedia, in 1997, Bill Clinton signed the 50 States Commemorative Coin Program Act into law. The US Mint honored all 50 states with their own commemorative quarter. The coinage raked in quite a bit of dough for the government just based on collectors alone.
New Jersey's quarter was the 3rd release in the state quarter series, which wasn't too shabby. Delaware and Pennsylvania were the only states that preceded the Garden State's. NJ's coin features George Washington's army crossing the Delaware on his way to surprise the Hessians and wreck house in the Revolutionary War. We've all seen this before. The reverse side design is inspired by the 1851 Emmanuel Leutze painting Washington Crossing the Delaware. I really thought NJ could've sprung to throw an original design on there rather than a painting we've been looking at for over 150 years.
According to usmint.gov, this quarter was the first circulating coin to feature George Washington on both sides. (I guess they had no idea that I have GW's silhouette tattooed on both of my asscheeks.) I find it ridiculous that it took a board of 15 people (descriptively referred to as the New Jersey Commemorative Coin Design Commission) "who were selected for their backgrounds in history, art, and numismatics," and Christine Todd Whitman all to approve a coin design! Talk about overkill.
For those who aren't on board with the stimulus package, why don't you lobby for another set of state quarters, but a series more accurate to modern times? New Jersey's will obviously feature refineries, toxic swamps, and the Jersey Devil smiling giddily giving a thumbs up. California's would naturally feature Dutch from Predator puffing on a cigar resting his machine gun on his shoulder as the Hollywood sign rests on the hills behind him. What's up with New York you ask? Gozer the Gozerian is shooting laser beams right at us from high atop Dana Barret's apartment building with terror dogs on each side of her. Florida? C'mon that's a no brainer! Scrooge McDuck. Now I'd buy those for a quarter!