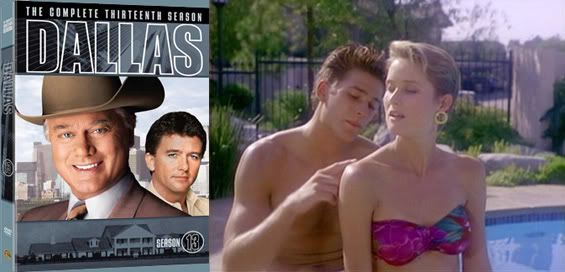 Dallas spent 13 years on the air and in its 14 seasons, New Jersey was mentioned only once. Regardless of being mostly Jersey-less, it's still one of my favorite TV shows of all time. One NJ namedropping seems like one too many since The Garden State is probably the furthest thing from the wheelin' and dealin' of a Texas oil company. In Season 13, Sasha Mitchell (Cody on Step by Step, Kickboxer sequels, and Slammed) joined the cast as James Beaumont, J.R's illegitimate son. In this scene he reveals a bit of his past to J.R's assisstant, Sly Lovegren, just after applying suntan lotion on her back.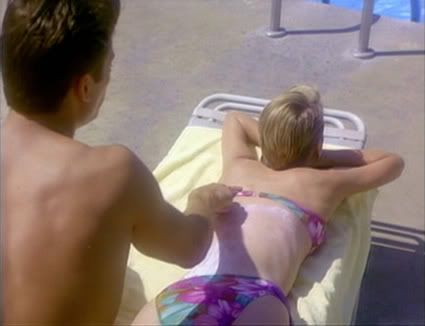 "Are you sure you don't want to take this off?" 
– Good 'ol James – always worried about those tan lines!
JAMES: "I was kicked out of 3 different schools in 3 different countries."
SLY: "You don't sound very European."
JAMES: "No, when I was 10 my parents sent me to a military school in New Jersey…"
*Just in case you want to model your kid after James Beaumont from Dallas, two of the most popular military schools in New Jersey are The U.S Military Academy Prep School at Fort Monmouth aka West Point Prep, and Cedar Bridge Military Academy in Toms River, NJ.