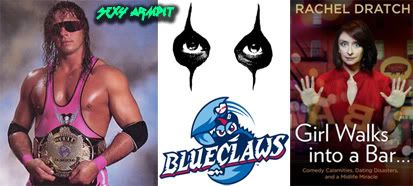 The chances of the title of this post happening is higher than it would usually be. You can catch all 3 of these iconic gentlemen in Jersey real soon. Oh, I forgot to mention that when they get to the bar they also run into Debbie Downer from SNL!
SNL alumni Rachel Dratch will be signing her book Girl Walks Into A Bar on April 2nd at Bookends in Ridgewood, NJ.
Next, coming up on April 7th at the Count Basie Theater in Red Bank, NJ there will be a FREE showing of The Toxic Avenger! The Sexy Armpit will be there to root on Jersey's first super hero as well. Visit the Count Basie Theatre website for more information.
Also coming soon is the Chiller Theatre pop culture convention at the Hilton in Parsippany, NJ happening April 27th through the 29th. Here you will be able to hob knob with the likes of Alice Cooper, Cathy Moriarty, Robert Loggia, Dean Cain, and perhaps the coolest guest, Dirk Benedict a.k.a Face from the A-Team amongst many others. Tickets are on sale now at the Chiller Theatre site.
And merely a few months away, Minor League Baseball team The Lakewood BlueClaws take on The Hickory Crawdads on June 16th and they'll be getting some guidance from their special guest in their corner, WWE Hall of Famer Bret "Hitman" Hart. The Hitman will be signing autographs for fans at FirstEnergy Park in Lakewood, NJ. Go to the BlueClaws website to see their schedule and purchase tickets.