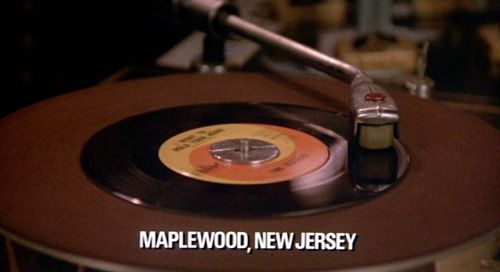 I Wanna Hold Your Hand: Protests, Police, Prostitutes, and PAUL!!!
Some DVDs linger on my "must watch list," but for one reason or another keep getting passed up in favor of repeat viewings of Mr. Mom and Nightmare on Elm Street. Those things happen. I'm rendered powerless when I turn on the TV and see Psycho on, but when there's a hundred movies that I've been meaning to watch for years and I still haven't followed through, then that's a problem. Recently, I finally watched one that has literally been on my list for more than 5 years.
Talk about underrated! I hereby add 1978's I Wanna Hold Your Hand to the most underrated comedies ever. While growing up I never even knew about this film. It didn't really play on TV all that much and it didn't make a ton of money at the box office either. Considering all the movies that have gone unnoticed in theaters and eventually became legendary on VHS and DVD, by rights this should be one of them, but it's not. As we take a closer look you can be baffled along with me as to why I Wanna Hold Your Hand doesn't always show up on those lists of classic rock and roll comedies.
There's several reasons why you'll want to check this movie out. What's most noteworthy is that the film was written and directed by Robert Zemeckis and get this – it was produced by Steven Spielberg! If they aren't the movie Mega Powers, I don't know who is! Secondly, my notion of the film before I watched it was that it was probably some sort of Beatles biopic like a more straight laced version of Spinal Tap. That couldn't have been further from the truth. The Beatles merely serve as the catalyst for the teenage characters to get to the Beatles legendary performance on the Ed Sullivan Show. Remember when Clark Griswold said "Getting there is half the fun, you know that!" Well that is definitely the case and the Beatles take a back seat to all the craziness that happens along the way.

I Wanna Hold Your Hand has more in common with a teen period piece like American Graffiti than a straight up rock and roll film. It's a time capsule of Beatlemania. Naturally it will have more of an effect on you if you lived through the '60s, but that didn't phase me one bit. The cast is fantastic and it includes Nancy Allen who makes out hardcore with Paul McCartney's bass, the late Wendie Jo Sperber in her film debut (you may remember her from Bosom Buddies and as Mary McFly's sister in Back to the Future) in her funniest role, Marc Mclure (Marty McFly's brother), and Eddie Deezen who played the geek Eugene in the Grease films.
In 1999, the KISS version of this film was released as Detroit Rock City. That's not an exaggeration. DRC is one of my favorites, but I couldn't believe how much that film borrowed from I Wanna Hold Your Hand. Oh, and last but not least…the film opens in Maplewood, New Jersey!