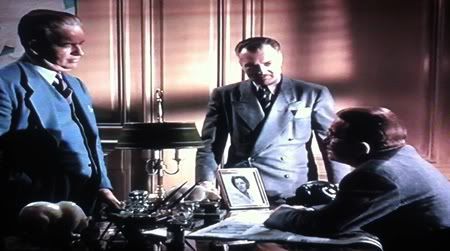 MACY: "Well, we can cover the country too. Notify our stores in San Francisco, Atlanta, Toledo, and Newark to get going right away."
This scene in 1947's Miracle on 34th Street shows R.H Macy rattling off several store locations from his empire. In retaliation against Gimbel's, Macy instructs a couple of his employees to expand the new referral policy that Kris Kringle started because it created so much customer loyalty and positive publicity for them.   
When I watch movies like Miracle on 34th Street and A Christmas Story every Christmas season, I find myself in awe of the department store scenes. Shopping in department stores back in the 1940's seemed like such a larger than life experience in comparison to the horrific battles encountered at Targets and Wal-Marts around the country. If you were a kid back then, the wondrous store front displays were of utmost importance because they provided the chance to scope out all the toys that you might put on your Christmas list. Macy's in New York still attracts huge lines to view their store window spectacle during the holidays, but there isn't really anything that grand in New Jersey. 
In the above scene, the Newark location Macy mentions is actually a Bamberger's, which was one of the premiere department stores in New Jersey. It was founded way back in 1893 and their flagship store was built in Newark in 1912. In 1929, Macy's bought Bamberger's, but it wasn't until 1986 that they were officially rebranded as Macy's. In addition to malls across The Garden State, Bamberger's operated stores in Morristown, Plainfield, and Princeton as well as in New York, Pennsylvania, Delaware, and Maryland. An anonymous comment posted at The Department Store Museum blog summarizes exactly what Bamberger's was: "Jersey's version of Macy's…"
Check out the Bamberger's post at The Department Store Museum which offers pictures and info on many of their New Jersey locations. Also, several facts in this post were taken from the Bamberger's Wikipedia entry.