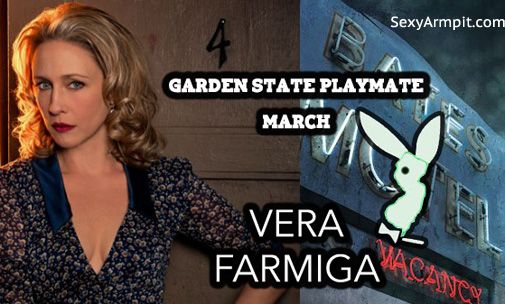 Ukranian-American beauty and Oscar nominated actress Vera Farmiga is our Garden State Playmate for March 2013! She was born in Passaic County, NJ and graduated from Hunterdon Central Regional High School. If by chance you aren't familiar with this talented actress, you will be soon since there's sure to be a buzz about her upcoming role on A&E's
Bates Motel
.
It was brilliant casting her as Norma (Norman's mother) in the Psycho prequel series set in the modern day. The premiere episode was outstanding, mostly due to Farmiga's ability to easily sink into a role so perverse and brutal. She was a perfect choice for such an iconic role. After I viewed the first episode I have a feeling she's going to give Olivia Hussey (Norman in Psycho IV) a run for her money!
Before Bates Motel you may have seen Farmiga in movies like Autum in New York, 15 Minutes, Orphan, Up in the Air (in which she was nominated for Best Supporting Actress), and Safe House.
A few interesting facts about Vera:

– Farmiga's parents are Ukranian immigrants and according to IMDB she is the second of seven children.
– She didn't speak English until she was 6 years old
– She plays the piano
– She owns pet angora goats.
– Had her first child at age 35 and her second at 37