Recently, Mrs. Sexy Armpit came across quite a unique item while on a routine shopping spree at Target. I was amazed that she found these "Classic Hasbro Games Game Night Candy," considering I was just thinking how we could really use some candy in the shape of board game pieces for our candy dishes that coincidentally are in the shape of board game pieces as well. Needless to say, it was a brilliant find on her part.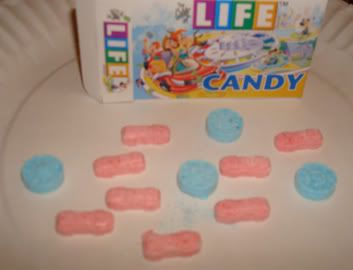 I realize that most of the children consuming this candy won't be critiquing the companies choice in naming their product, but damn, couldn't they have shortened the name? How about just Board Game Candy? It's obvious that the mini cardboard boxes made to look like board games, which are clearly visible through the CLEAR cellophane wrapper, didn't make their point abundantly clear so they deemed it necessary to have an inordinately descriptive name. Let's just say they definitely overcompensated on the name to make up for the products shortcomings.
Inside these mini versions of Clue, Monopoly, Life, and Operation, are tiny Pez-like candies in the shape of board game pieces. Comparing this candy to Pez is way too kind, it's more accurate to say these candies can be used as soap for you action figure's bathtub. They very badly want to be a Sweet Tart, but the novelty aspect is far superior than the low grade candy itself. As far as this candy being a good choice to snack on during board game night, that's a definitive NO. If you're at the store, you're better off buying a gigantic 34 lb bag of Skittles and hightail it out of there.
I got a little weirded out when I opened the Operation box. The last time I played Operation was nearly 10 years ago during an all night nostalgic board game frenzy. All I know is that there were bones involved, as well as a few other foreign objects, but there was NO frogs or birds that I had to fetch out of the dude's body. I always felt bad for that creepy guy we've been operating on. All us kids have been poking into his body for years and years. If I were him, I'm pretty sure I would have gotten fed up by this point and said "This isn't what I signed up for," while my boss at Hasbro replies "actually, this is exactly what you signed up for, I have your 2- stipulation contract right here, 1) eternally nude 2) constantly probed, tweezed, and judged…so you lose!"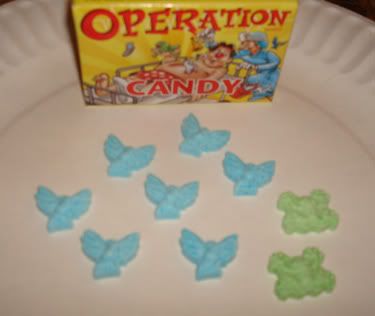 As you can see here, the Operation candy included
blue birds and only 2 green frogs, but no bones anywhere!
The Operation Game History at Hasbro.com offered some insight. Unbeknownst to me, Operation was updated in 2008 to add "funatomy" parts. This means nothing to me. Changing anything about a classic game like Operation is like changing the formula to our beloved breakfast cereals. When are these companies going to learn not to f-ck with Trix, Fruit Loops, Fruity Pebbles, and they sure as hell shouldn't mess with our board games. I can handle the breadbox, butterflies, and whatever other silly objects are in the original game, but birds and frogs? That's exactly what our youth needs, a game informing them that when people get older and need Operations, all they have to do is remove the birds and frogs that are fluttering and leaping around in the persons body.