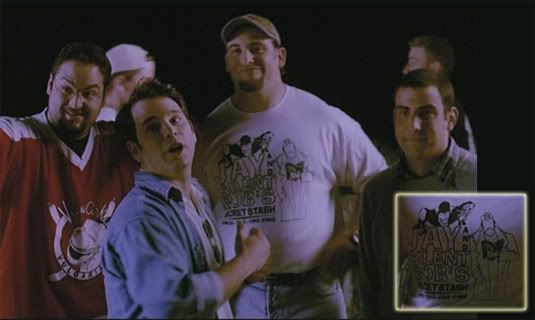 I know what you're thinking…again with
Cold Hearts
?!?! Well, first of all, this atrocious Twilight saga seems to have ripped off the 10 year old Cold Hearts, at least a little. But more importantly, how could I resist bringing it up again when the film depicts a group of over animated frat guys who hang out on the Jersey boardwalk? It's ripe for ripping. Luckily, one of the guys just happened to have worn a Jersey appropriate t-shirt in one scene.
Danny (played by Cherry Hill born actor Stink Fisher), is clearly the muscle of the crew, and proudly wears a
Jay and Silent Bob's Secret Stash
T-Shirt. It's not officially known whether this specific shirt was chosen because it was sheer enough to accentuate his ridiculously huge shoulders or it was just what they had lying around in wardrobe. Danny looks like he could have went the full duration of an Iron Man match with Hercules Hernandez. Note to Chaz's Jersey vampire crew: Don't f-ck with Danny. Another member of the group, Kevin, is played by writer and director of the film, Robert A. Masciantonio. He keeps with the Kevin Smith tribute and dons a View Askew Vulgarians hockey jersey in this scene.
The holiday shopping blitz will officially be underway in just a couple of days. It's a great time to mention that
The Secret Stash online store
is having a Merry Christmas sale and you can get action figures, signed comics, DVDs, books, and of course T-SHIRTS! These are the latest editions of the Secret Stash shirts on sale for the Blunt-Light special price of $8 bucks! If you don't want to order online, then just head to Red Bank, NJ and visit Jay and Silent Bob's Secret Stash in person.