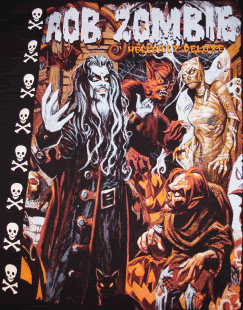 Ahh, the wonders of eBay. White Zombie and Rob Zombie basically have the monopoly as far as artists go on my iPod's Halloween playlist. Not that their music is "Halloween music" but it definitely fits. **"American Witch" off of his latest release Educated Horses get's alot of play.
Back in 1998, Rob Zombie released his solo album Hellbilly Deluxe. I was always a big White Zombie fan and it blew my mind to hear how amazing Rob Zombie's solo album was. Alot of the marketing and merch surrounding the release of the album had some kickass artwork. This shirt was always one I was meaning to order but kept putting it off because it was usually around $30.00, which always seems high for a T-Shirt.
I forgot about getting the shirt for a long time, but a month or so ago I decided to see if any online T-Shirt shops had it, but with no luck. I went over to eBay and sure enough someone was selling a brand new one! I snatched it up and I'm glad I did even if my sole purpose was to drool over the artwork.
I really love the way Zombie is made into a ghoulish monster but still retains his actual appearance to an extent. I want to be a ghoul too, I wish I could draw! In this artwork we also see a Wolf-Man, a Mummy woman, a ghost, and a hunchback. The artist seemed to have given the picture a Halloween vibe since there's pumpkins, a bat, a black cat, and lots of cobwebs in the background.