OK, so this article is a bit BAT-HEAVY but these entries deserve to be on the list! Feel free to leave a comment with any ones I forgot! I know there's many others, but here's the most notable ones…
Spider Man 3 – Upon its release I remember there being quite an uproar that Sam Raimi decided to feature a dance sequence in a Super Hero movie. I'll sling myself out on a web here and risk my reputation by saying that I actually enjoyed this part of the film. You have to remember that Peter was still in the black suit and it was doing weird primal stuff to his psyche. So naturally, the way that it manifested itself was by jazz dancing with a hot blonde. Who better to piss off your ex-girlfriend with than Gwen Stacy! While jazz dancing! C'mon, lighten up…it was fun.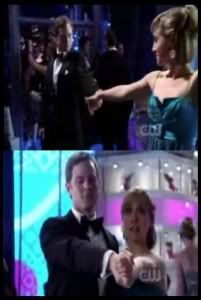 Smallville actually seemed to have "bit" off Spider Man 3 or "taken the lead" from it so to speak. In season 7, Chloe, one of the best characters in the show, goes and hangs out at a club and heats things up with Jimmy Olsen on the dance floor.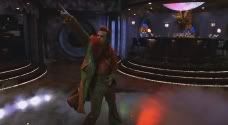 Mystery Men – Perhaps it's not a classic superhero movie but it was hard to resist. In yet another brilliant role, Geoffrey Rush plays criminal mastermind Casanova Frankenstein. We hear the Bee Gee's Night Fever, and see the gigundo disco ball hanging from the ceiling while Casanova takes it all in: "Ah The old disco room, just as I left it…" His cohort Tony, played by Eddie Izzard, prances around disco dancing and doing the macarena. He later proclaims "Disco is NOT Dead!"

Plastic Man Cartoon – I don't know if you're on board but I had really fond memories of watching Plas as a kid. It was such a fun show! Plas was accompanied by his cute blonde girlfriend Penny, his Hawaiian best bud Hula Hula, and Baby Plas. Here's part of the intro of the show where Plas boogies down: "…he can spring…he can stretch..he can fly…he can bounce…he can change his shape…and he can even dance!" Plastic Man doesn't get enough accolades. He's one of the better comical super heroes and that combo usually doesn't work well but it does for him! I always thought Jim Carrey would be an awesome choice to play Plastic Man in a movie.

Batman Returns – Michael Keaton and the super smoking hot Michelle Pfieffer slow dance to Siouxsie and the Banshees' haunting Face to Face while having the type of conversation I've only dreamed of having with Catwoman. "Mistletoe could be deadly if you eat it…A kiss could be even deadlier."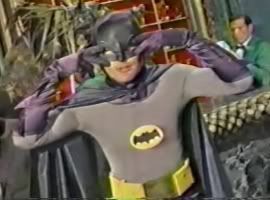 Batman 1996 TV episode Hi Diddle Riddle – Rules went out the window for Batman in the '60s. Batman was not only getting a little wacky in the comic books but also on prime time TV. Adam West's brilliantly dry portrayal of Batman gets alot of flack and it may mostly be due to the fact that he wasn't afraid to dance the "Batusi."

Return to the Batcave – Adam West and Julie Newmar get together for old time sake in this made for TV reunion to dance one last Batusi.