Harry Potter has been a phenomenon with young kids and adults for years now, but does that mean people have been going to their local hair salon and asking for "The Potter?" Kid and Play and Vanilla Ice have had influence on trendy hairstyles but neither of them had the type of impact to make a guy do THIS: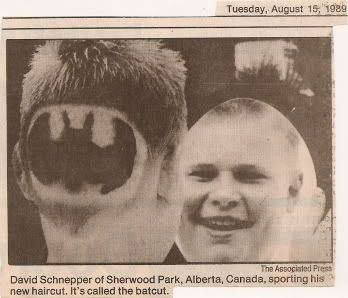 Aside from Beatlemania, I doubt anything will ever be bigger than Batmania. I'm glad I was around for it. Sure, we're all eagerly anticipating The Dark Knight's release but the feeling is nowhere near the feeling that came over the world in 1989 when Batman starring Michael Keaton and Jack Nicholson was released. It could have been that it was almost 20 years at that point since Batman was blasting onto the small screen. The Batman TV show was cancelled in 1968 and Tim Burton's version didn't hit theaters until 1989. It's almost legendary how bad producers in Hollywood wanted to get a Batman movie going after the success of the Superman saga.
Like Tom Petty once said, "…the waiting is the hardest part" and I guess finally getting what we were waiting for made us do some pretty outrageous things like shaving bat symbols into our heads. It's possible I might get reprimanded at my job if I pulled a stunt like this, so in honor of The Dark Knight's release I'll continue to obsessively write Batman related entries until the films release. Pictured above is a clip I scanned from my collection. It was printed in a local newspaper in '89.