Earlier today, just about 15 miles south of where I'm sitting at my computer
Jon Bon Jovi hosted a fundraising engagement for Barack Obama and the Democratic National Convention at his mansion on the Navesink River
. According to the Associated Press article, it cost each of the approximately 100 attendants over $30,000 to be there. You know me, whenever Barack is brought up I can't help but spew the obligatory word play. Like when I sit around and wonder if Jon Bon Jovi and Barack Obama were Barakken like Dokken and Baracking out with their cocks out! There's about 2 people in the entire world who will get a chuckle out of that. It's those 2 middle aged South Koreans whom I write this blog for.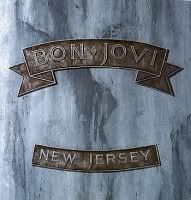 A while back in 1988, Bon Jovi did another cool thing for Jersey. The band released their 4th album and simply named it
New Jersey
. For those of you who were caught up in the "hair band" scene at that time then you know this album was pretty damn special. Perhaps, it was more special to those of us from Jersey. Imagine owning an album named after your state that featured colossal hits like "Bad Medicine," "I'll Be There For You," "Born To Be My Baby," and "Lay Your Hands on Me." Those are songs you probably all know, some of you probably hate, but you ALL know how they go! Wikipedia confirms that
New Jersey
holds the record for most Top 10 singles from a rock album with 5! The record still remains. Let's see if lamos like Daughtry and Nickelback can pull off something like that, huh?!?!
Even though Bon Jovi had successful albums prior to it's release,
New Jersey
showed that mega stardom wasn't going to make them turn their backs on the state that put them on the map. Naming the album after their home state illustrates how they revere N.J. It's rare that people who have made it big from Jersey talk about it highly. Usually people can't wait to move away and then immediately turn around and trash the state. They'll rip N.J a new asshole without flinching AND in public no less. Fortunately, guys like Springsteen, Jon Bon Jovi, and Kevin Smith proudly admit they're from Jersey. Even with all of New Jersey's faults and underhanded reputation, they aren't afraid to hail the state and give back to the community. When I first heard that Bon Jovi was naming his album New Jersey I thought that was one of the coolest things ever. It's a moment that I consider a proud one no matter how minuscule it may seem.
Bon Jovi's
New Jersey
contains "99 In the Shade" and is one of Bon Jovi's most underrated tracks!