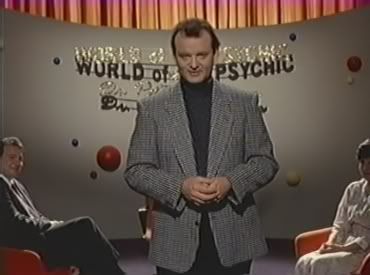 Let's join Peter Venkman's TV show World of the Psychic already in progress…
Elaine, now you had another date in mind…
According to my source, the end of the world will be on February 14th in the year 2016.
Valentine's Day…bummer. Where'd you get your date Elaine?
I received this information from an alien. As I told my husband, it was in the
Paramus Holiday Inn
. I was having a drink at the bar, alone, and this alien approached me, he started talking to me, he bought me a drink, and then…I think he must've used some kind of a ray or a mind control device because he forced me to follow him to his room and that's where…he told me about the end of the world.
It might have been a room on the spacecraft made up to look like a room at the Holiday Inn. I can't be sure about that Peter.
Of course not, and that is the whole problem with aliens, you just can't trust 'em. Occassionally you meet a nice one…Starman, E.T, but usually they turn out to be some kind of big lizard!