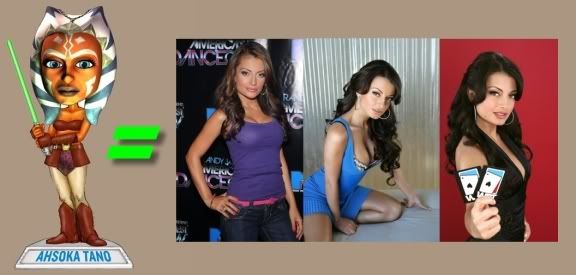 I must seriously question your midichlorian count if you aren't a fan of Star Wars: The Clone Wars. Although, surprisingly, the film and TV series have a large sand barge full of detractors. For some reason, many online folks have focused their feelings of disgust and hatred toward Anakin's padawan, Ahsoka Tano. Actually, I can't find anything about her character that I DON'T enjoy. She's not annoying unlike some of the propaganda circulating on the Internet will tell you. Ahsoka proves to be a young, strong, female character who girls can look up to. When their friends or brothers are emulating Anakin or Obi-Wan, girls need a hero too! Thankfully, Ahsoka wasn't given a stereotypical accent much like some of the other characters in the prequels (i.e Watto, Jar Jar, and Nute Gunray, to name a few). Ashley Eckstein flawlessly provides Ahsoka's voice, but what if Ahsoka were to appear in the live action TV show? Who would be best for the role? 
Keep in mind that Ahsoka is merely 14 years old, but I think we can stretch the age limit a little bit here. If Gabrielle Carteris and the rest of the cast of the original 90210 did it, then so can George Lucas! I choose
Layla Kayleigh,
 a natural beauty who hosts
The Feed
on
G4's Attack of the Show
and America's Best Dance Crew on MTV among other TV credits. She's only 24 and in addition to modeling, Layla has starred in a film and runs her own video blog. I find her physical features and diverse ethnic background to be prime reasons why she would be perfect for the role of Ahsoka. According to Wikipedia, Kayleigh has "African, European, and Middle Eastern ancestry." What do you say Layla? Are you up for the Jedi training? How do the readers of The Sexy Armpit feel about it?