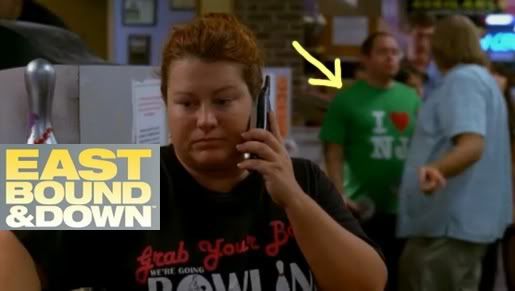 An I LOVE NJ T-Shirt appears in Chapter 18 of Eastbound & Down
Kenny f'n Powers! Just when I thought his antics couldn't get any more offensive, deplorable, and insanely hysterical, he sinks to new depths in the 3rd and final season of Eastbound & Down on HBO.
As Kenny deals with April deserting him and the challenges of being a father, his quest to get back to the major league still consumes him. Filming took place in Myrtle Beach, South Carolina where Kenny plays on the Myrtle Beach Mermen.
The end of Chapter 18, which aired last Sunday, gave us a sample of what kind of loony performance we can expect from Lily Tomlin who is playing Kenny's mother. I'm sad to see the show come to an end, but I'm anxious to see Danny McBride show up in other movie and TV roles.