I tend to complicate my life unnecessarily. Instead of plain old
original
Mountain Dew being my favorite variety of Mountain Dew, I've always enjoyed
Baja Blast
which is exclusively available at Taco Bell restaurants. 
I can't just go to the grocery store and pick up a 2 liter of Baja Blast, it just doesn't work that way. The Refreshment Gods have yet to vote on the ruling whether Baja Blast should be available in stores. Why couldn't I just be obsessed with Mountain Dew
Code Red
, or Mountain Dew
Live Wire
? I can't settle when it comes to my thirst for sparkling Dewy refreshment. I'd rather not be lifted out of my condo by a crane, so obviously I can't eat at Taco Bell every day just to drink some delicious Baja Blast. Since I've come to this realization, I've spent most of my free time stumbling around in circles with my head down listening to "The Order of Death" by Public Image Limited. Needless to say, things haven't been too good for me around here. That is…until I gulped down a few sips of
Mountain Dew

Voltage
. 
"Drinkin' Voltage changed our whole perspective on shit!" 
Last year, the Mtn. Dew campaign
Dewmocracy
asked online voters to decide which new flavor would be released next. VOLTAGE reigned over it's 2 flavor competitors and was released at the end of December '08. The winning flavor combo is comprised of Raspberry, Citrus, and charged with ginseng. This gives you a nice kick in the pants without the jitters of an energy drink. I've been trying to slowly detach myself from energy drinks, and now I have found my savior in Mtn. Dew Voltage.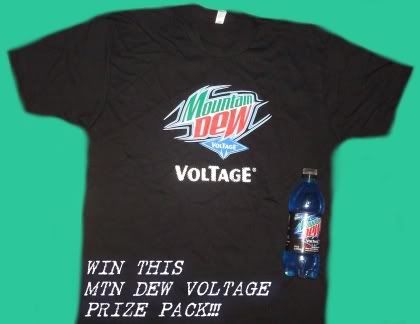 In honor of Voltage becoming a mainstay here at The Sexy Armpit, we've got Mountain Dew Voltage prize packs to give away! The Prize Pack includes an American Apparel Mtn. Dew Voltage T-Shirt, and a 20 oz. Mountain Dew Voltage for you to guzzle down.
Here's what you have to do:
Write
one sentence describing why you love MD Voltage using the words

"Mountain Dew Voltage."

  Sentences should be humorous, creative, or bizarre in tone like so:
1) I've completely replaced my body's blood plasma with Mountain Dew Voltage.
2) I always prefer Mountain Dew over Prune Juice.
3) No Jawaharlal, drinking Mtn Dew Voltage will NOT make your penis blue like Dr. Manhattan's, but I've spoke to him personally and he told me that "Dew Voltage tastes extremely gratifying in my tummy."
4) To all the pansies who drink
original
 Mtn Dew and worry about lowering their sperm count…stop your whining! Mountain Dew Voltage does NOT contain Yellow 5.
5) If I was a Nascar driver, Mountain Dew Voltage would be sponsoring the SHIT out of me
– Be part of the first 10 people to post their sentence in the comments section
– E-mail sexyarmpit@comcast.net your address/Subject VOLTAGE 
– Winners can be from U.S and Canada only!
I look forward to reading your sentences!