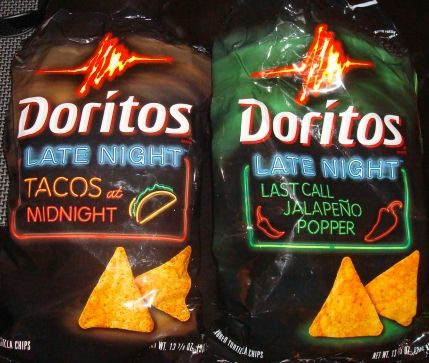 Blissful moments are rarities in life depending on how you look at things. To some, a blissful moment might be watching their child blow a dandelion into the wind or taking a deep breath of fresh air on a sunny day while walking around the park. For the inner couch potato such as myself, that same wonderful feeling is captured when a crunchy, seasoned, triangle of corn gets placed on my tongue like communion. This triangle of corn I speak of is more commonly referred to as the Dorito. It's pungent odor infiltrates my nostrils and it's taste ignites my senses. No, you're not reading a Dorito advertisement, but this is one of life's grand moments and it should be described with proper sentiments. Hell, I don't mind telling the world how much I love eating Doritos and they aren't even paying me! But what I'd rather discuss is the lack of advertising for these 2 new additions to the Dorito lineup.
I found 2 flavors from the new Doritos line, "Late Night," at the local Target store in NJ. When I saw them on the shelf, as always, my heart skipped a beat. It was as if I was running through a meadow and the bags had arms and legs and were valiantly dashing toward me. I didn't just see 2 bags of Doritos, no way, we found each other and we didn't even need Plenty of Fish. I gently placed the bags into the top of my shopping cart as if they were sexy twin Playboy playmates. I'm not gonna lie, I may have caressed the bags at one point or another throughout my 3-hour Target tour. I don't want to hear about how weird you think it is…not even for a second! You would need some attention also if you had to wait for me to wander into the toy section, the DVD aisle, and try on all the lame hats.
In an attempt to grab the attention of late night munchie maniacs, the lettering on these bags glow in neon lights. It was difficult, but I was fairly positive that I was staring at a bag of chips, not at a drive-thru like Taco Bell. Close but no Chalupa said the chiuaua. Are you one of those people who get excited at knowing Taco Bell and White Castle are open late so you can soak up all the alcohol you just downed? Then these tortilla chips may just be perfect for you.
Tacos at Midnight: I'd say the flavor accuracy is dead on in these chips. Heavily dusted, they truly give off an immediate taste of eating classic crunchy tacos. It brought me back to when I was a kid and we had taco night at my house. It was fun because my mom would set out bowls of toppings and we'd jam pack the crunchy shells. As soon as we took the first bite everything would fall out. From that moment it was only soft tacos for me. I give Doritos credit for engineering a truly genuine taco flavor, I can't say I really enjoy them though. They didn't taste zesty at all and lacked the punch I was hoping for. I can only consider these to be a mediocre addition to the Dorito line.
Last Call Jalapeno Popper: All I have to say is thank the LORD that these weren't called "Last Call with Carson Daly Poppers." That would be theeeee worst TV show tie-in in the history of the world. What the f–k kind of flavor would they give Carson Daly? Probably "ass" flavored Doritos, but if we're lucky it would be NyQuil flavored so we'd fall asleep soundly before his show even went on! Jalapeno Poppers as an appetizer always sound great in theory, but after you have a bunch of them, you realize they weren't such a good idea. I can handle hot food, especially Jalapenos, but there's something about mixing them with various rich cheeses that gets me queasy after forcing down Jalapeno Popper #11. I try to stick to small doses of J.P's, but when it comes to Doritos, as I've stated numerous times, I can typically eat a half bag of Doritos without even thinking. That didn't bode so well considering that after eating a bunch of these I was left feeling really gross. With Nacho Cheese Doritos I always finish feeling like I could easily annihilate 16 more bags. If your eating something called "Last Call Jalapeno Poppers," it's probably because there were 3 or 4 poppers left on a baking sheet that fell on the floor in the kitchen of Bennigan's and they figured it would be a nice gesture to bring out some FREE SNACKS! Obviously people drink more when they've just eaten a bunch of hot, salty balls. More beer please! Unfortunately, I can only rate the Last Call Jalapeno Popper a half a step above the Tacos at Midnight variation.
I don't see a proclamation on their bags stating these new Doritos are for a "limited time only," or a "special edition." That's usually just another way of stating, "this is just a test." Even though they aren't anywhere near as good as Doritos Collisions, why not exploit these bad boys?