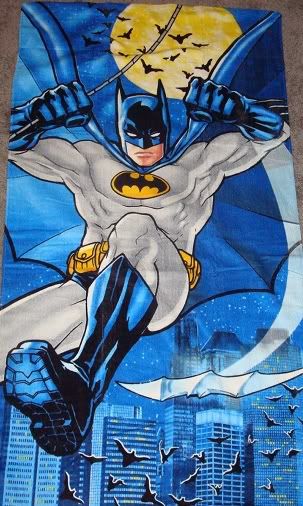 Many Jersey folks refer to the beach as "the shore," it's just something we do. Some people wear socks with sandles, we call the beach "the shore." Some people still bring fanny packs fastened around their gut that's hanging over their waaay too small seafoam green bathing trunks, while some middle aged women are parading around in front of other beach goers lacking the proper butt cheek coverage. You can tell when a woman isn't from around here when she's wearing what Paul Stanley refers to as "butt floss." 
At the Jersey Shore, some people don't give a crap if they kick sand in your face as they pass you. And then SOME PEOPLE BRING A MUTHAF–IN' BATMAN TOWEL THAT THEY BOUGHT AT WALMART. (Me) So, I got news for you lousy people who have no common courtesy and kick sand around while walking: If you see a guy laying on a Batman towel, watch out because you might get a batarang flung at your ass. And nobody wants to see your gut, you beached whale.
Do you think I should soil this awesome rectangular piece of heavenly bat material by bringing it to the dirty Jersey Shore, or should I keep it sheltered in the linen closet at home as it anxiously awaits it's chance to soak up the water particles off my squeaky clean body after I shower?
Summer is almost here so break out your bootleg of "Surf's Up, Joker's Under," and as the Joker said…"Cowaboonga!"