We're officially in the midst of summer so I've chosen a girl who exudes the qualities of the season. This month, I've named the original
Gidget
, Sandra Dee, as June's
GSP
! I guess I never told you the little loophole I have in the Garden State Playmate stipulations: I never said they had to be living!!!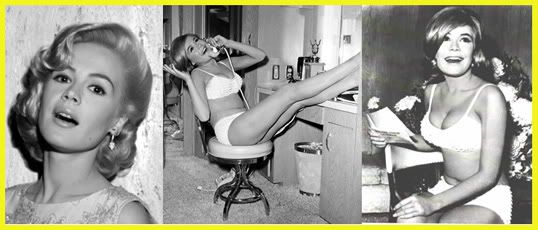 Before she became a pop culture icon, Sandra Dee was born Alexandra Cymboliak Zuck in Bayonne NJ. As a child, Dee began modeling and appearing in commercials, and in the late '50s she became a household name thanks to starring in movies like Gidget, A Summer Place, and Imitation of Life.
Dee was married to singer/actor Bobby Darin from 1960 – 1967. They wed in a spur of the moment ceremony at the home of music mogul Don Kirshner in Elizabeth NJ. In Beyond the Sea, Kevin Spacey's 2004 biographical film about Bobby Darin, Dee is portrayed by Kate Bosworth.

To many younger folks, Dee's perhaps best known for the song named after her in the stage production and film Grease. In the film, Betty Rizzo (Stockard Channing) choreographs a whole performance of "Look at me, I'm Sandra Dee," for her friends at a slumber party, only to have the unassuming Sandy (Olivia Newton John) walk in to see them making fun of her prude behavior.
In a very different role, Dee starred in The Dunwich Horror based on an H.P Lovecraft story. For more, there's a phenomenal write up on the film at
Teleport City
!