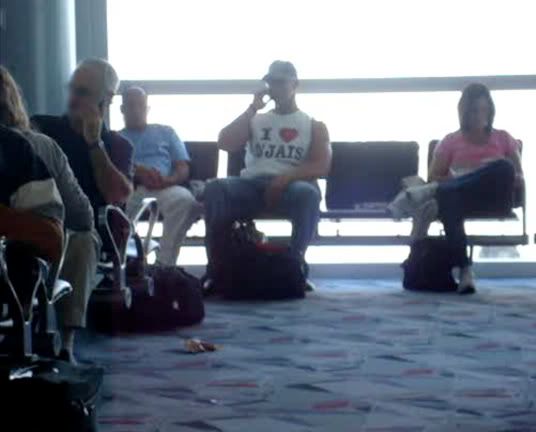 Not even McCarren International Airport in Las Vegas is exempt from having a real live, genuine New Jersey guido leave his mark there. And not even the NJ guido in his "plane clothes" can escape from having his picture snapped by The Sexy Armpit.
There's nothing worse than waiting endless hours in the airport seating area for your flight to board. You could imagine my wide-eyed amazement when I looked directly in front of me and saw a guido wearing a shirt that he could get away with wearing only in Belmar, NJ OR 2,000 miles away from NJ. This guy's shirt had "I (heart) D'Jais" printed on it. Trust me, my Corey Feldman Center for the Arts T-Shirt is radically more publicly acceptable than this. He may as well have been wearing a shirt that said "I'm a huge guido," because that's exactly what that shirt translates to.
It was like a National Geographic episode where we have a bird's eye view of the guido secreting his cologne/B.O stench and talking obnoxiously on his cell phone. It was a rare occasion to have such a photo op since the guido's blown out hair was concealed by a hat, he wasn't wearing tight black pants, and there was also the absence of a tight, shiny, purple button down shirt. The tan was still prevalent which is indicated by the blatant gun show that he's putting on for the poor disinterested folks waiting for their flight.
Right now, most of you not from New Jersey are saying what the hell is D'Jais? Well, in short, it's the guido capital of the entire universe. If space aliens were to tune in their "guidar," a HUGE blip would appear blinking incessantly like a strobe light at D'Jais in Belmar, NJ. You can tell by
their websites ridiculously loud thumping beats
that dudes go there to dance like idiots and sweat like maniacs. The guys that go there are so cool Richard Grieco couldn't even touch them.
No self respecting human being should step off the airplane with an "I Love D'Jais" shirt. What's crazy is that this guy was parading around Las Vegas with this shirt on, proud as a peacock. Of course, as soon as that thought crossed my mind, we hopped on the plane and noticed him slip an Ed Hardy shirt over this one. I guess he didn't heart D'Jais that much.