This old school Six Flags Great Adventure shirt 
Have you ever actually bought an old, used, smelly, stained t-shirt on eBay? Personally, I can't say that I have, but there must be enough people out there who do because there sure are a ton of eBay stores that specialize in what they call "vintage" t-shirts. In this case, vintage is a word that makes old and worn out sound somewhat desirable. These t-shirts aren't the trendy, distressed, logo tees that you see at Target labeled Large but only seem to fit boys in 3rd grade, rather they are from whatever year YOU were in the 3rd grade. In many households the next step for these tees is either the trash, or the nearest good will clothing bin. The Sexy Armpit would probably throw the better quality ones in the good will bin, while the shittiest one would be used to dust off old electronics. We are in America after all, a country where so many people out there think, "why can't we make a buck off of these ancient rags rather than donate them to people who are less fortunate." What complete douchebags.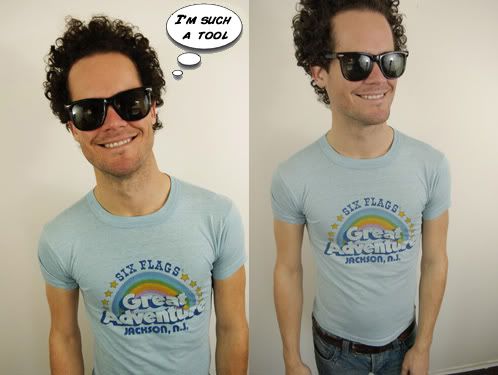 The male model for Smith and Pooter Vintage, is apparently 6 feet tall and weighs 150 lbs. I'll refrain from making assumptions about this guy's character, but I will say that he has stupid hair. He definitely needs to start throwing back more White Castles or something because he looks emaciated. Of course, this shirt was originally a men's large and now fits like a girls small, so this scrawny guy was a perfect choice to model this piece of shit shirt. Whoever you are, why do you buy this crap?
Armpit stains (even the best detergent can't eradicate evil Armpit stains!), holes, more stains
Just remember folks, as bad as this economy has been, YOU DO NOT have to lower yourself to buy used t-shirts, nor do you ever have to accept a job creeping everyone out while modeling stinky old t-shirts on eBay. You should however, still have fun, and more flags=more fun, SIX FLAGS! Oh man, they should be paying me for that.