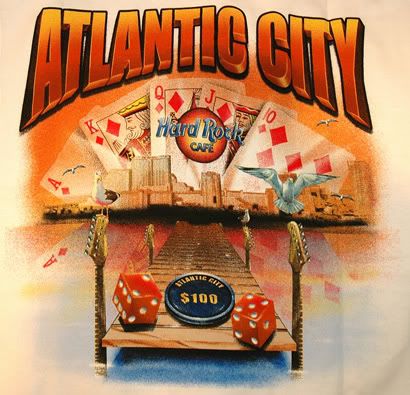 Art from a Hard Rock Cafe Atlantic City T-Shirt
The nation's second most popular gambling city has a plan to eliminate their competition. Surrounding areas such as Pennsylvania, Connecticut, and New York have attempted to give Atlantic City a run for its money. But just like Dr. Janosz Poha said about the impervious Vigo the Carpathian, these other second rate gambling establishments "are like the buzzing of flies to him." Taking its cue from swank hotels like The Borgata, The Hard Rock plans to create one hell of an upscale experience to sucker people back to the city that Monopoly took its street names from. The $300 million dollar project will include a boutique hotel and casino similar to their Las Vegas location. Translation: another reason for your girlfriend to try and entice you to hop on the GSP to voluntarily insert wads of hard earned cash into those noisy mind control machines. Until their new complex is built, you can head over to the existing Hard Rock Cafe in Atlantic City which is located at The Trump Taj Mahal and features a Gibson guitar shaped bar. If you've never been there, grab some lunch before a concert. The Hickory Smoked Pulled Pork Sandwich is recommended.
Today's tee beats the hell out of the typical Hard Rock Cafe logo tees that you see everywhere. This shirt is colorful, elaborate, and captures both the gambling aspect of A.C as well as the skyline and elements of the shore where the restaurant is located. Ebay seller benk_store has this shirt up for sale.