Ad Jerseum: So much Jersey advertising it'll make you vomit!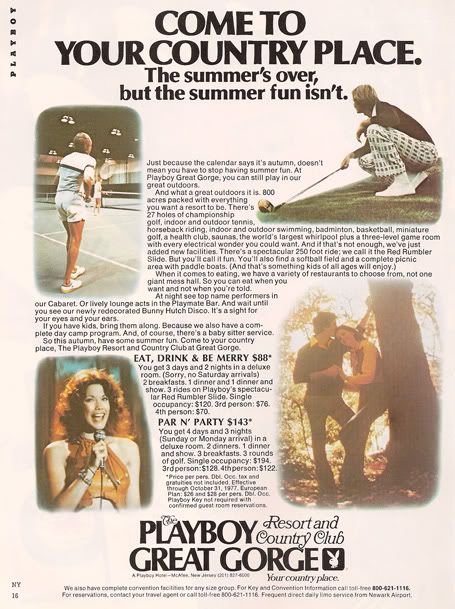 This vintage ad for Playboy's Great Gorge Resort and Country Club in McAfee, NJ 
appeared in the pages of Playboy Magazine in approximately 1976/1977
If you can read all that fine print, you might be struck odd by how frequently they egg you on to bring your kids with you on your getaway throughout this ad. C'mon, would you really want to bring your kids to the Playboy resort? Hey Hubby, you could kiss your sexy adult alone time goodbye when wifey decides to bring little Bobby and Suzy along for the trip. Talk about a buzzkill. Ahh, who cares, at least when the old ball and chain is asleep with the kids you could sneak down to the Bunny Hutch Disco! Now the party is ON! Bunnies, Beefeater, and Bush, that's what the '70s were all about.
Were people that hard up for good babysitters back then? Well, the Playboy Club had no problem finding babysitters, they even had their own fleet of them. I'll tell you one thing, if I was a kid when this place was in operation I would have begged my parents to go there just to be in the same vicinity as the bunnies! In fact, I have reason to believe that the babysitters may have moonlighted as Bunnies! Shhh! Don't tell anyone! Babysitter by day, Playboy Bunny by night! Quick, get me some financing for this production!
Even by today's high standards of mega resorts, this place is still very impressive. Aside from all its other amenities, Great Gorge had the world's largest whirlpool, a THREE LEVEL GAME ROOM, and The Red Rumbler Slide, whatever the hell that was it still sounds rad. Maybe the ill fated Xanadu in East Rutherford could take a cue from Great Gorge and it can become Playboy's next monstrous indoor resort. Now I demand it. Look at how convincing this ad is, it's 34 years old and it's still enticing me to make reservations, I better hurry though because these prices are only effective until October 31st, 1977.