This past weekend I took a trip with my girlfriend and some other friends to The Beachcomber in Seaside Heights, NJ. I wanted to check out It Ain't Pretty, a band churning out modern rock and pop cover songs. The band is made up of Dennis Zimmer, P.J Farley (Trixter, Ra), Shawn Mars, Mark Hall and Dave Clauro. They rocked the place and helped the Beachcomber live up to it's renewed reputation as a fun place to go to drink and let loose.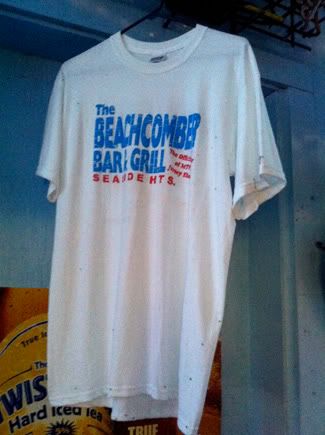 When your establishment's claim to fame is "This is where Snooki got punched," it's easy to attract business. Even their t-shirt has become a collectible with the stamp of approval: The Beachcomber Bar and Grill: The Official Bar of MTV's Jersey Shore.
While walking around the Seaside Heights boardwalk that night, I realized why MTV chose the Seaside Boardwalk as opposed to the other stretches of the expansive Jersey Shore. Why not Point Pleasant, Atlantic City, or Wildwood? The answer is because the Seaside Boardwalk is unbeatable. There's so much crap to do! There's games, stores, bars, and rides; you're almost guaranteed to have some sort of fun. So, for those watching Jersey Shore repeats thinking that Seaside Heights has a cheap, shlocky mess of a boardwalk, well, you're absolutely right and that's why it's awesome.