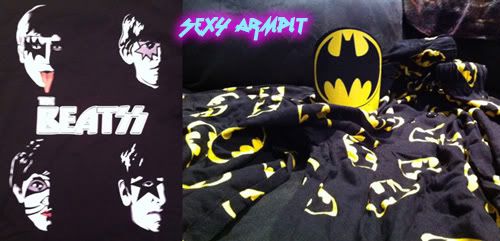 KISS + The Beatles = The Beats T-Shirt and Batman lounge pants and Bat-Beer Koozie
Coal is some HOT shit. Instead, I got some cool shit for Christmas. Every year I'm very appreciative of the gifts people give me, the time and effort they put into choosing, buying, and wrapping them, and this year is no different. As usual, the holidays passed by so fast, and now I finally have the chance to look back at some of my gifts.
Usually it's hard to even think of ideas to tell the people in my life who aren't sure what to get me for Christmas. But it should actually be pretty easy come to think of it. I've liked comics, Batman, WWE/WWF, music, movies, KISS, SNL, Disney, and horror movies since I was a little kid so there's a wide range of stuff to choose from right there. You can't go wrong with a person who has a lot of interests.
Oh, and of course there's my little obsession with the toxic sludge flooded state I call home. As highlighted here on The Sexy Armpit, pretty much anything Jersey related will also do the trick. To avoid having to do the previous rundown every time someone asks me for ideas, I usually just ask for some Tinker Toys…and iTunes and Amazon gift cards. The 'Pit Crew picked out some really great ones this year. Let's take a look at some of them:
Disney Traditions Hitchhiking Ghosts Statue by artist Jim Shore
I'm a foolish mortal, and a HUGE Haunted Mansion fan. Last time I was in Disney World, I drooled over this baby in every store we shopped in. Thanks to Ms. Sexy Armpit for this badass surprise!
When you're done reading this, click over to
FunkyChunks.net
and pick up some of their creatively handmade 100% Vegan soaps. Their soaps smell amazing and lather up nicely. After you're done perusing, read about Michele Rosta, the former punk rocker from Cleveland turned New Jersey soap maker. I was happy to receive The Jersey Devil soap (pictured above) with an order I placed for Christmas. This gray, concrete looking bar of soap smells awesome and has a masculine sensibility, while their Jersey Girl soap (below) is more of a chick soap.
For you non-Jersey maniacs out there, don't worry, they also offer soaps that aren't Jersey related such as Frosted Pumpkin, Bewitched, Secret Sin, and Lavender Lemonade to name a few. Trust me, if your mom is going to put soap in your mouth for dropping an F-bomb, you better pray it's Funky Chunks!