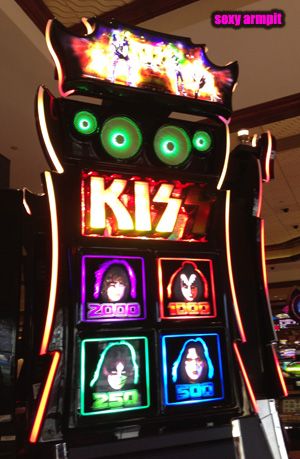 For a while Miss Sexy Armpit and I thought that we'd have to go back to Vegas to play the new KISS slot machines, but this weekend we were proven wrong! It was a big surprise to see them at Harrah's resort which was awesome.
Visually the machines look badass. The game play itself isn't anything out of the ordinary, but naturally, it's KISS-ified. There are a few different bonus games, but after playing 2 different machines, none of them popped up! BOO! One of the neighboring machines had a few bonuses so we were able to check them out. They were pretty cool and showed some concert footage and had you choose from various album covers to unlock more credits or another bonus game. The game plays a few KISS songs. The ones we heard included "Detroit Rock City," and "I Was Made For Loving You."
I'm happy that KISS is finally represented in Atlantic City. So far we've got Batman, Ghostbusters, The Phantom, Playboy, and now KISS. Not too many more left – I'm pretty happy with the selection!