Our KISS saga continues here at The Sexy Armpit.
KISS maintained their polished glam metal musical style with 1984's Animalize. Although it stood as their highest selling album since ALIVE II and it contains several great tracks, 24 years later this album isn't their most memorable. What I can't believe is the fact that at the time it outsold both Creatures and Lick It Up, which are 2 of the very BEST albums that Kiss ever released. The late Mark St. John came into the band replacing Vinnie Vincent. During this time KISS held their own against most of the other dime a dozen "hairbands" out there, even though the KISS Army knew that their favorite band was colossal and shouldn't be referred to as a "hairband." It was still a solid effort but my favorite thing about this album wasn't the music, it was the totally '80s animal print on the cover. BEST TRACKS: Thrills in the Night, Heaven's On Fire, Under The Gun, Get All You Can Take
To replace Mark St. John, Kiss welcomed Bruce Kulick to the band. In 1985 Kiss released Asylum which features 2 of the best songs of the "non makeup" era (Tears Are Falling, and Who Wants to Be Lonely) BEST TRACKS: Tears Are Falling, Who Wants To Be Lonely, Uh All Night!, King of The Mountain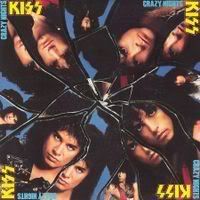 With a sugary pop rock title track, Crazy Nights was a huge album for KISS. They continued with their lineup featuring Bruce and Eric, perhaps their strongest lineup musically. As KISS opted to lose their dark, raw, rock roots MTV embraced their videos and Kiss still enjoyed big success 13 years later. Crazy Nights was KISS in full on '80s pop metal mode. BEST TRACKS: Crazy Crazy Nights, Reason To Live, Turn on the Night
Smashes, Thrashes, and Hits, a "best of" compilation released in '88, featured 2 new tracks that I've always enjoyed. For some reason they get torn apart by critics and fans on the Internet though. Who cares? Eric Carr also sings vocals on "Beth" on the album. BEST TRACKS: Let's Put the X in Sex, You Make Me Rock Hard
If you remember anything about Hot in The Shade it could be the Sphinx wearing sunglasses on the cover. Or it could be the fact that Paul Stanley co-wrote the album's biggest hit, Forever, with Michael Bolton. Even though it's a little sappy, and it might have been your wedding song, it's undeniably good. It's sad to think that it was Eric Carr's last KISS album when he and Bruce helped unify the band in so many ways. Judging by the maturity of the actual musical compositions and the sound, perhaps not the lyrics, KISS was still fully capable of crafting some excellent rock songs. BEST TRACKS: Hide Your Heart, Rise To It, Forever



It's possible that the pinnacle of KISS' career came in '92 with the release of Revenge. Kiss came full circle as they recaptured their sound but they lost the charismatic and irreplaceable drummer Eric Carr. I miss Eric Carr 'til this day but Eric Singer was and still is a worthy successor. Bob Ezrin returned to co-write and produce and Vinnie Vincent was also on board to co-write a few songs. The music rocked in a serious way. Sure there was a lot of blatant KISS trademark sexuality, but there was also Gene's return to his "demon" roots with "Unholy." I always wondered what KISS' next album would sound like since Revenge seemed to have helped them come to the realization that they were a legendary and still relevant band. From being featured in Bill and Ted's Bogus Journey all the way to one of the bands best ballads, Revenge is a diverse KISS effort and definitely a CLASSIC! BEST TRACKS: Unholy, God Gave Rock 'n' Roll To You, Domino, Heart of Chrome, I Just Wanna, Every time I Look At You
I'll quietly tiptoe over ALIVE III since there's no new material there unless we count their performance of The Star Spangled Banner. We'll skip right over to KISS UNPLUGGED, which was the CD released after their acoustic MTV special. This intimate, bare bones KISS show was very meaningful to the band and the fans. We got to see Ace and Peter return to play with the band and at one point Gene, Paul, Bruce, Ace, Peter, and Eric are all up performing on the same stage at the same time. Without rambling too much about how awesome this album is, pick it up for yourself. Kiss Unplugged is as worthy of being called great as ALIVE! is. Even though the songs are performed acoustically, each one sounds perfect. It's also such a different experience to hear these iconic songs in a stripped down style. If any album of KISS is going to prove their chops it'll overwhelmingly be this one. BEST TRACKS: I can't pick just one since they all sound so damn good!
Although it was recorded between 1995 and 1996, Carnival of Souls was finally released in 1997. Let me now defend the incessantly derided COS. It's late release truly pissed me off but I was lucky enough to have a bootleg for over a year before it was actually released. When I first heard the tracks on the bootleg I almost pissed myself! It featured a dark, grungy, otherworldly hard rock sound that showed KISS venturing into new territory. Even early concept art for the cover of the album seemed fitting and a step forward from the typical KISS cover art. The album had some introspective moments, some hints of sadness, and even requisite anger. Kiss didn't trust their intuition and held off on releasing the album. Perhaps the record company didn't think they could compete with the bands of the day like Alice in Chains? When COS was circulating as a bootleg is when it should've been released. It was their answer to the shoe-staring grunge era music that ruled the day. The entire band sounds tighter, edgier, and more mature than ever. The lyrics are actually thought provoking, especially on "Childhood's End," which was co-written by present day Space Ace, Tommy Thayer. If only this album was released as a follow up to Revenge rather than an afterthought. BEST TRACKS: Hate, Rain, Master and Slave, The Jungle, It Never Goes Away, In the Mirror


The reunion of the original KISS members spawned an album of new material called Psycho Circus in 1998. IT was great seeing "the band get back together" but at this point being a KISS fan was getting tedious. Just as we were getting used to Eric Carr, he passes away. Bruce Kulick was one of the most talented and longest tenured members of KISS. And now that we have Eric Singer truly making his mark on the band we might as well let both of those guys go to get Ace and Peter back. What a disaster! Psycho Circus was one of the most anticipated comeback albums in rock history and it didn't live up to it's potential at all. Of course we have the strong title track and the whole "psycho carnival" theme but there's not much else going on here. "You Wanted The Best" while a guilty pleasure, is for die hards only since it's cheesiness is incomparable. The song deals with all of the strife among the original members of the band. Rather than re-inventing the original KISS lineup as a formidable rock gang like they originally intended to be, they opted to ride the "reunion" railroad but they never passed go. They blew the opportunity to build on the creepy vibes given off in the title track. I give more credit to the Bruce/Eric/Eric lineup since for 13 years they were plugging away releasing music that continually improved upon the previous. BEST TRACKS: Psycho Circus, Within, Into the Void, I Pledge Allegiance To The State of Rock & Roll
Thank you for reading and I hope one day KISS will quit releasing "best of" compilations. I wish that Paul Stanley stops saying that fans don't want to hear "New" KISS music because that's not true at all. Hey Paul, maybe it's that you guys are too lazy to make it? Shit, I would be too if I breathed the fumes of thousands of dollar bills all day. KISS needs to return to making the hard rocking tunes they were always known for.