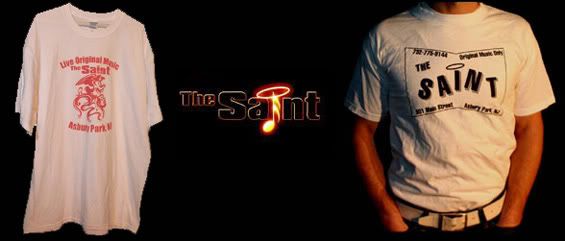 The Saint
in Asbury Park, NJ is one of the best venues to discover new bands in the Tri-State area. Since 1994, the stage at this corner bar has been graced by major label acts, local up and coming bands, and artists hailing literally from around the globe.
On a recent visit to Asbury Park, I stopped into The Saint for a beer. As I sat on a stool at the bar, I absorbed the atmosphere. The multicolored lights saturated the various concert posters, memorabilia, and other quirky decor hanging on the walls. To the right, I noticed a band setting up their equipment on the stage, and even though I was curious to stay and check them out, my eyelids were already involuntarily shutting on me. I just can't hang anymore, especially since I was up at 5:00 am that morning. As my girlfriend and I were about to call it a night and hop back on the GSP, Lipstick and Cigarettes, were plugged in and ready to rock the crowd. I peered around at people's faces in the bar and everyone was waiting patiently, so I figured this band must be pretty good. One girl standing not too far from my stool who said her name was Stephanie, seemed like a fan, so I asked her if she saw this band before: "Yeah I did, and this is only their 2nd show actually," ahh, thanks for the info Steph. Normally "only their 2nd show" would be a surefire signal for me to hightail it out of there, but after hearing merely 20 seconds of their opening song "Burn This City," I knew they were my type of band.
Almost all the songs this trio performed were instantly memorable. I was sold on their bouncy, energized, retro rock vibe. Chris, the lead singer and guitarist of Lipstick and Cigarettes, could have been yanked out of a video from the early days of MTV with his skinny tie and black button down shirt. His voice matched the visual, creating a sound similar to many new wave bands with the prefix "The" in their names like The Cars, The Fixx, and The Knack. Their drummer, Erik, provided killer beats throughout the show, especially on the intro to "Alibi." He infuses the songs with a rhythm that made me feel like they could have been on an '80s movie soundtrack. But providing the key female element in the band is their bassist, Sarah, who probably gets so sick of hearing all the Cassandra from Wayne's World references, so unless you want to get punched in the mouth, you better think twice about asking her if Crucial Taunt is playing The Gasworks this week. Sarah provided backing vocals on a few of the songs, such as "White Tie Affair," but the band would benefit from making Sarah and Erik's backing vocals more prominent in every song, which would provide a fuller, more distinct sound.
During the concert, I admired how meticulously constructed their pop rock songs were. For instance, "Taking it Slow's" big "Whoa-Oh" chorus was fun, less sugary than the sweet power pop of Tinted Windows, and way less effeminate than Franz Ferdinand. Accentuating their set was a fresh cover of The Romantics' "Talking in Your Sleep," while some of their best tracks followed such as "Sleight of Hand" and "Dangerous Eyes." As they brought it home, the crowd wanted more. Although unsure of what song they would do, Lipstick and Cigarettes delivered an encore. After some back and forth, Sarah was elected to sing. She enticed all the guys in the crowd with her alluring vocals on Blondie's "Call Me," and of course, she slapped some bass as well.
The show was over and I wasn't tired at all after seeing Lipstick and Cigarettes. The second the show ended I basically interrogated the drummer Erik and tried to shake him down for a CD, but he claimed they didn't have one made yet. That got me more than a little pissed considering that I could totally picture myself cruising around this summer with the windows down blasting their music. I thought he was just joking around and didn't want to give me a copy, but then he mentioned that this would be their last live show for a while since they are working on writing and recording their debut album. Damn, I was glad that we decided to hang out! I admit that I was unsure if I wanted to stick around for a band I knew nothing about and whose music I have never heard, but that is the type of unexpected magic a place like The Saint offers. All the classic bands started somewhere, and if I'm lucky I may have witnessed one in the making.
LIKE Lipstick and Cigarettes on Facebook
and
visit http://thesaintnj.com to check out their event schedule