As sports go, I've never been truly good at any of them. I have my moments in basketball but my talents are better suited for thinking of outlandish ideas and growing slimy Captain America's in my kitchen.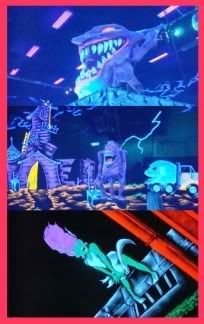 I always thought I was above "par" at miniature golf, but that one got shot down the other night when The Sexy Armpit took a trip to Monster Mini Golf in Fairfield New Jersey. I discovered this place on a Google search with my boss during lunch at work. We were thinking out loud and wondered if any indoor miniature golf places existed in New Jersey. What if it was raining one night and we just had an urge to go mini golfing? Damn, we'd be shit out of luck! So, as Google always does, it came back with plenty of helpful search results.
To my surprise, one of the results lead to Monster Mini Golf which looked awesome. I couldn't believe I never heard of it before. Apparently it's a chain across the country. Monster Mini Golf is basically the miniature golf version of a dark ride. I don't see how anyone could not think that is one of the coolest things ever invented. It's right up there with the advent of Peanut Butter and Jelly.
Not enough places take the time and effort into making their establishment original. Remember the quirky places you loved as a kid? Between the Showbiz Pizza places and Razmatazz, they all had charm. After a while there wasn't one place that was brave enough to stand out. What happened to the "show," and the "spectacle?" I think all people, especially kids need to escape the real world and be reminded that life is fun, not all business. I love the over the top animatronics and spooky displays that you see in dark rides and in amusement parks. It's a mystery to me how we don't have a place inspired by Magic Kingdom in the tri-state area. Besides Great Adventure, Sesame Place, and Chuck E. Cheese there's nowhere to bring your kids for a fun time. Until now.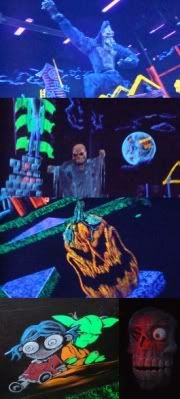 Finally there's a place that reminds me of the type of place I loved to go to as a kid. Monster Mini Golf is the kind of place that makes a kid's jaw hang open in awe for a while. I've posted a few pictures of some of the phantasmic displays you'll see as you're trying to put the ball in the hole in under 5 attempts. (Something I occasionally had difficulty with.) I'm usually easily amused by glow in the dark stuff and blacklights, so perhaps I was distracted?
When you're finished with the game you can head over to the game room and play some air hockey, shoot hoops, and even get a taste of the boardwalk with some ski-ball. All the games will spit out some tickets that you can cash in for some creepy little monster toys. We all opted for the Goblin rings. We were a few points shy, but the the guy at the desk was nice enough to give us all rings anyway.
This trip was a lot of fun and if you live far from Fairfield, N.J, I recommend you plan a little trip to Route 46. You won't be disappointed, and afterward there's no shortage of restaurants and malls in the surrounding area. Go with a group or bring your kids and you're sure to have a good time without spending a lot of money. If you're apprehensive to take a far ride, then at the very least you should plan to go before Halloween. It's one of those places that definitely has personality, and I commend the owners for being brave enough to open one in New Jersey and for having such a courteous, helpful staff.
Also, you may want to stop by Jose Tejas after the big game for some Tejas Chicken. They are the best Tex-Mex restaurant in existence and it's authentic atmosphere will make you feel like you're in From Dusk Til' Dawn or something. Ever wonder about the "meat on a stick" conversation in There's Something About Mary? Well, Jose Tejas listened and created boneless chicken on a stick with a semi-hot buffalo type sauce. After a knock down, drag out game of Monster mini-golf, they were a perfect way to end the night.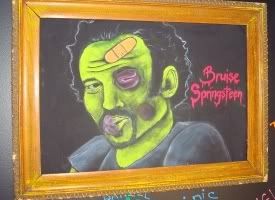 With my silly little Sony Cybershot camera I took some video and edited it up real nice for you! Take a look and leave a comment if you enjoy it! Perhaps next time I'll take a crack at Women's Beach Volleyball?