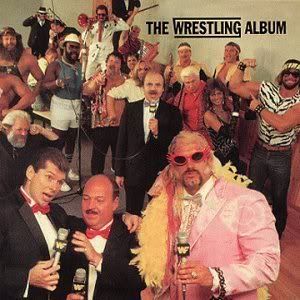 Sometimes I sit and wonder why I feel like I haven't reached my full potential in life. Moments later it occurs to me that I could recite all the banter from "The Wrestling Album."
Back when WWE was called The World Wrestling Federation, 1985 to be exact, not only was I pretending to dodge bullets from the Libyans' van, but I was also playing the shit out of this album cut by all the WWF wrestlers. In between songs, Vince McMahon, Mean Gene, and Jesse "The Body" Ventura provided color commentary which made the album quite original. I used to pose in the mirror to "Real American" ( Hulkster's theme but originally for the U.S Express' Mike Rotundo and Barry Windham) dance around like a maniac to JYD's "Grab Them Cakes," and pretend I knew how to line dance when "Don't Go Messin' with a Country Boy" by Hillbilly Jim kicked in. And sure, I'll admit that I used to listen to Jimmy Hart's "Eat Your Heart Out Rick Springfield," and Rowdy Roddy Piper's catchy tune "For Everybody" incessantly.
So what, maybe I have a few of these songs on my iPod. I'm sure you have some incriminating shit on yours too. Some TMNT "Pizza Power" anyone? I'll forgive that because at least mutated super hero turtles were involved. But Ini Kamoze's Hotstepper and Right Said Fred? C'mon, it looks like you need some higher quality embarrassment so you better start downloading The Wrestling Album. You see, I don't really care if someone's in my car and my iPod starts to play the WWF wrestler's version of Land of a Thousand Dances. You'd be surprised at what a blast it is. I used to stare at the album cover and pick out who was singing each line.
You'll never see anything like this again. All the wrestlers were together, singing and clapping in tandem. It was like the WWF version of We Are the World only not for charity and the opposite of touching. So how does this tie in to New Jersey? Well, Piper goes off on The Goonies, The Iron Shiek spits, Bundy threatens to squash us with his Avalanche, and perhaps the greatest manager of all time Bobby "The Brain" Heenan brilliantly warns: "I'm gonna stretch ya from here to New Jersay!" (3:18) Look out for cameos by Meatloaf and Mona Flambe aka Cyndi Lauper! As Jesse "The Body" Ventura said: "I'm gonna crush ya and ill see you lata!"