They weren't lying in Harold and Kumar Go To White Castle, we New Jerseyans can really put away massive amounts of White Castle burgers. Although, I'd hate to disappoint you, not everyone in New Jersey is a stoner but we definitely have our fair share of characters who are. The legendary Jay and Silent Bob oh so proudly enjoyed some herbal refreshments: "who smokes the blunts, we smoke the blunts!" and then Harold and Kumar followed in their footsteps, albeit in a more nerdy and culturally diverse way. The film depicts their wild and outlandish journey to get some White Castles to feed their craving.
As I've mentioned in the previous installments of New Jersey's Great Pop Culture Moments, (or NJ'sGPCM's if you're into the whole brevity thing) is that seeing a film or TV show where your state and surrounding cities get name dropped is really freakin' cool. Even though the film gives the impression that it's 100% Jersey, Harold and Kumar was filmed mostly in Canada and Los Angeles. Filming in New Jersey is expensive but there are some scenes filmed in Hoboken N.J and on the Garden State Parkway.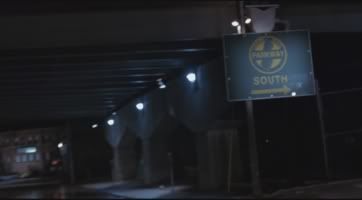 On their quest for some sliders, Harold and Kumar hold up traffic at a toll because their change didn't activate the light to go green. Every car horn explodes because the impatient Jersey drivers can't handle the delay. In usual Jersey style, the raging, belligerent a-hole behind them sticks his head out the window and screams at them: "Hey MOVE YOUR ASS!…MOVE YOU FUCKING TWAT…MOVE YOU RETARDED COCK SUCKER! MOVE!" That's a typical day on the road in Jersey. God has granted you peace if you live in another state. If so, bless you, you'll be able to live a calm, stress free life.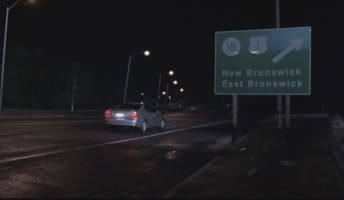 After getting cursed off, Harold and Kumar get off at the wrong exit and wind up in Newark. Kumar had the exact same sentiments we all have when we're driving through Newark: "You know we're gonna get shot!" From there, the boys get to New Brunswick just to find out that the lame Burger Shack has replaced White Castle! It seemed to be one disappointment after another until the guys are hiding from security in the girls bathroom. Then they had to suffer through two hot British girls playing a little game called "battleshits."
The film featured a few notable cameos. Jaime Kennedy turned in possibly the creepiest performance he's ever done, and Ryan Reynolds played a supergay doctor. It's just a hunch, but something tells me that the Johnny come lately's are going to be snatching copies of Harold and Kumar up so they can see Silk Spectre II's boobies if they missed it the first time. That's right, Malin Akerman plays Liane the hot girlfriend of the disgusting Freakshow. And I cannot forget Neil Patrick Harris' brilliant, horny, drug induced appearance before he came out with his gay revelation.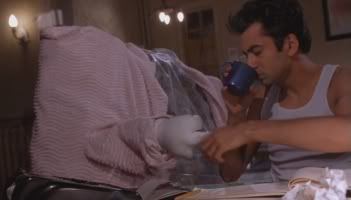 Look out for Kumar's love montage with a gigantic bag of weed to the tune of Heart's "Crazy on You." It's one of the most hysterical scenes ever, especially after Kumar backhands the bag of weed: "Learn how to make coffee you fucking whore!" Even though I haven't watched the sequel yet, I salute Harold and Kumar Go To White Castle for being a modern Jersey classic!