When you hear the term "Man on a Mission," I'm 99.9% sure that the former WWF trio of Mabel, Oscar, and Mo doesn't spring immediately to your mind. A man on a mission is ME when I'm in the grocery store, or any store for that matter.

"I have no respect for people with no shopping agenda"
Shannon Hamilton (Ben Affleck) "The Asshole from Fashionable Male" – Mallrats
I'd hate to fall into the category of a person who is respected by Shannon from Mallrats, but, yes I usually have a shopping agenda. I don't quite live in a bustling city like Manhattan, but the traffic and headaches here are sometimes just as easy to come by. Going to some of the grocery stores and superstores like Target and Wal-Mart drives me nuts. It's rarely a pleasant experience even though I'd like it to be. On one occasion, I drove to Wal-Mart for a poster frame and then realized there's no good parking spots, carts are banging into cars, and when I finally got a spot, someone tried starting shit with me saying it was their spot. This isn't even the holidays!
Once in the store, I become the Terminator and set my infrared sights to pinpoint exactly what I came to get. Oh, who am I kidding? I get sidetracked so easily. Seeing Batman Underoos stops me in my tracks. I think if I had the money I'd just buy anything with my favorite characters on it. After spending an hour and probably somewhere in the range of $100, I realize I need to get the fuck out or suffer more monetary and mental damage. I'm sure I also had some irreparable damage to my ear drums considering it's so damn loud in these stores with all of the screaming, crying, whiny kids. I love kids, truthfully, but they go ballistic if you don't tell them you'll buy them every thing in the store.
Even when I'm at a higher level store like Wegmans, difficulties still hinder me from shopping with ease. When the hell are grocery stores going to hire a traffic cop and build shopping cart highways? So many people have no idea how to handle a shopping cart. Some folks are actual adults and senior citizens believe it or not! You'd think they'd be experts at handling themselves in a store after shopping for 40 some odd years. People don't move when they see others trying to get through, and certain people think that NO ONE IS EVER BEHIND THEM! Go a little bit faster people! You don't have to run the New York City Marathon or anything, but damn, not everyone is retired and taking leisurely strolls through stores "just to see what pops out at them." Remember, get out of my way…I'm on a mission!
When I actually made my way through all the congestion and literally cursed my way through the fresh baked bread line, I finally attempted check out. This part is the biggest joke ever. Not only have I actually seen a person almost get kicked out of the store because they went to the 10 items or less line with well over 10 items, but a middle aged angry woman cut in front of me in line and then yelled at me saying "I was next…you can't cut in front of me!" Just get me out of this hellish place! These people are out of their minds. I just need to buy my Marshmallow Monsters, and a couple of friggin' chocolate pumpkins and get my ass out of here!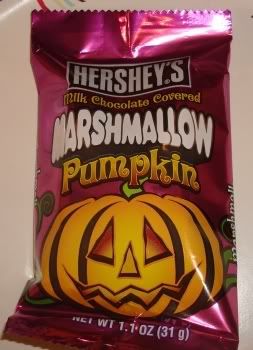 A few days ago I finally decided to try Hershey's milk chocolate covered marshmallow pumpkin. I think I had a brainfart because when I got home I realized I thought I bought the Reese's pumpkins, but I was happy I didn't…at least my health was. These Hershey's pumpkins aren't that bad for you so you won't feel too guilty indulging. Even us "adults" need to relish in some Halloween candy once in a while. I haven't trick or treated in about 16 years so this will have to suffice. Making it through the store excursions alive was scary enough.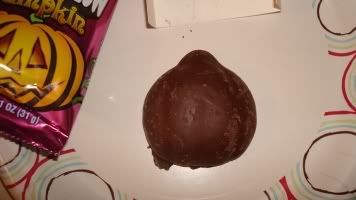 I tore open the package to see a hunk of chocolate that did not resemble a pumpkin, more like a half a fig covered in chocolate. It didn't matter though, because once my teeth ripped into the soft marshmallow center I was sold. The pumpkin was tasty, I must say. The marshmallow filling was actually quite smooth and more on the creamy side. It wasn't that styrofoamy type of marshmallow you get in a Moon Pie or Scooter Pie, this had substance. The texture and taste was pretty close to that of Fluff.
If you are the type of person who watches what they eat, then I highly recommend the Hershey's marshmallow pumpkin as treat for Halloween. I didn't see a dark chocolate version in the store, which I would've rather had but with 3.5 grams of fat and NO cholesterol, you won't feel too guilty.
Hand made Marshmallow Pals are my new best friends! I don't remember seeing a package of "hand made" candy in a long time. I picked these up at a $5 Below store, who always seem to have tons of candy. As it turns out, there was several different varieties of "hand made" candy in the store but the Marshmallow Pals really caught my eye. They had that special something. At first glance I knew these were going to be mine. Inside the individually wrapped packages were Frankenstein, Dracula, The Witch, and we'll call him Mr. Pumpkin. They were all happy to finally get a breath of fresh air after spending so much time wrapped in their cellophane.
They looked so appetizing, especially Dracula and Frankenstein for some reason. I was impressed by the details like the semi-hard icing that made up the hair on the witch and Drac, Frankie's bolts, and the pumpkin's vine. Admiring those details didn't last very long since I beheaded all of them! The Marshmallow Pals basically tasted like Peeps but these seemed a bit sweeter, possibly from the aforementioned hard icing.
Sorry I ate you my little mavericky Marshmallow Pals! And now that I can't hear, I have no money, and my eyes are crossing thanks to all the bright lights and cool shit…it's finally time to go home and enjoy the rest of my booty.