Could it be possible? Does history really repeat itself? I never thought it could happen, but after the rollicking good time I had at ROCK OF AGES on Sunday October 26th at The New World Stages in New York City, I really think it does.
When I was a little kid, tearing through issues of Metal Edge and plastering my walls with posters of GNR, Skid Row, and Poison; I dreamed of the sinful aura of debauchery, sleaze, and mayhem that the L.A sunset strip rock scene evoked. Meanwhile, my sister, in her teens at that time, sang along to all the songs that old worn out VHS tape of Grease cranked out incessantly.
Even as a kid I knew better than to believe life actually resembled how it was depicted in Grease. Anyone who's gone to high school knows, that compared to the film Grease, high school could be a nightmarish, bleak, and horrible place. To my surprise, I graduated high school without engaging in one group hand jive, without ever having been stranded at the drive in, and my old 4-cylinder '87 Chrysler LeBaron didn't, by any means, drive like "Greased lightning." Life's never as "peachy keen" as it is in the movies or on stage for that matter. I never thought for a second that the explicit, raunchy rock scene that was my obsession would ever be "Grease-ified." Grease was originally a stage musical and just as it pulled from late '50s high school nostalgia, Rock of Ages embodies the excess and broken dreams on the '80s Sunset Strip. I was petrified that the attempt of glamorizing my beloved hairband era would be catastrophic. Would the play condescend and poke fun at the age of lipstick, plastic, and paint? Could Grease's cigarettes, cheerleaders, and black leather biker jackets be interchangeable with the '80s themes of drug abuse, aquanet, spandex? I would soon find out!
After I took my seat, I immediately basked in the authentic set design by Beowulf Boritt, who also worked on The Toxic Avenger Musical. The stage was created to look like the interior of the fictitious Bourbon Room, which is reminiscent of the Whiskey or the Rainbow in L.A. The walls of the theater were plastered with concert posters while billboards hung from high above. A Jack Daniels advertisement asks "I did what with my sister?" and another one points out, in case you haven't heard, Arsenal's new CD "I Want Your Cans" is in stores now.
Pink lights drenched the inside of the Bourbon room. Rock memorabilia adorned the walls. There was a Pink flying V, collages of rock stars, and framed pinups of Motley Crue, Guns and Roses, and Poison among others. The main focal point of the Bourbon Room was it's small stage where a lot of bands began their rock dreams. (Stone Pony anyone?) Onstage there was a dingy bathroom that served as the butt of a few jokes, and center stage featured a revolving room that provided background for various scenes. Oh yeah, I know you'll like this part…there was a stripper poll on each end of the stage. I know what you're thinking, and the answer is YES! Did they get used? What kind of a question is that? A good question actually, because now's a good time for me to mention that when I'm reincarnated in my next life, I've signed a definitive, definitely happening, contractually binding, legal document that professionally and law abidingly states that I will come back as one of the two brass stripper polls on the Rock of Ages stage. Triple Stamped. For the honor of Grayskull. And that's the bottom line cause I just said so!
Right about now a message over the P.A system states there should be NO flash photography unless you're willing to show your boobs! YEAH BABY! I won't spoil too much for you, since the Rock of Ages marketing team utilized the "less is more" idea and it worked. All online and print ads tout the play's great tunes. It seemed as if name dropping the bands was enough since the house was PACKED! The vague propaganda turned out to make the play an unexpected blast.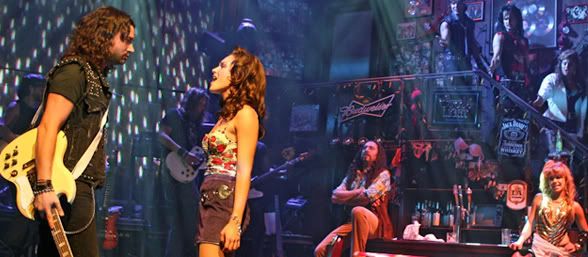 At the crux of the play there's a love story between Drew (Constantine Maroulis) and Sherrie (Kelli Barrett). It's the typical story of a couple of '80s L.A dream chasers who fall for each other. Boy works at a bar and hopes to make it big as a rock star. When boy gets noticed by a talent manager, he suggests that boy change his whole look and go on a "mall tour." Girl dreams of being an actress but plans fizzle out and works as a waitress, then climbs ranks to become a stripper. Even though the story is simple and reminiscent of others you may have heard before, I dig the message of the play. Even if you don't get exactly what you want on your quest, it doesn't mean your dreams are necessarily broken, you may just find that you have better dreams.
When we're off cloud 9 with the two lovebirds, the city government is attempting to clean up the Sunset Strip and make it more family friendly. One of the establishments that would be effected is the Bourbon Room, so it's manager Dennis, (the skilled Adam Dannheisser) does his best to stop this insanity. Like the good natured hippie he is, he doesn't want his bar to close or his staff to be out of jobs. Dennis comes up with the idea to call in a favor from Stacee Jaxx, a Steel Pantheresque lead singer of a wildly popular band called Arsenal. (CD just dropped) I laughed deliriously at Will Swenson's flashy performance which reminds us of how pompous, arrogant, and egotistical many of the great '80s hair band frontmen were. Other superior performances include the refreshing Kelli Barrett as Sherrie, the over the top hysterical Mitchell Jarvis as Lonny the narrator, and Wesley Taylor as the gay German (ok so he's not gay just German.)
The ensemble cast featured some hot dancers who weren't afraid to show some butt cheeks and rock skimpy lingerie. Don't be a prude, that's how it was in the '80s! The '80s hair band era was instrumental in providing me with a template of the ideal woman. White leather jacket, short skirt, crimped hair, high heel boots, and stockings, don't you remember? Duh. Rock of Ages featured an immensely talented actress, dancer, and singer Angel Reed. I definitely had a crush on her like a little kid watching Dial MTV during the hair band days and seeing that girl with the white leather jacket on. Or maybe it was Club MTV, it escapes me. Either way, she was hot, and she has her own exotic dance DVD that all you women should pick up and let her teach you how to dance for your man. While you're at it check out all of Angel's other projects like her music and modeling gallery! You really need to experience Rock of Ages just to watch some of Angel's moves with the aforementioned poll that I will become in my next life. Yay! I never thought I'd say it, but I can't wait to die!
I didn't go into the play with too many expectations since I managed to avoid reading reviews of the show. Although I could imagine what's being said, since for the past several years it seems like shitting on '80s bands is the trendy thing to do. But now is the time that the up and coming bands are citing bands like Guns, Motley, and Poison as major influences. (rightfully so!) It's time that this era got some credit! If it becomes known for anything, Rock of Ages, pays tribute to the '80s rock era in a monumental way. The classic songs that help the play rumble on become even more transcendent. (u shut up now)
Bo Bice sucks and Constantine should've been runner up on Idol in '05. Some of the notes he hit in Rock of Ages almost exploded the Bourbon Room, which would've sucked cause he was trying to help save it! His mastery of this style of rock truly wins the audience's approval as his character Drew shows off his rock chops.
In Rock of Ages some of the songs you hear are taken right from the hair band era, while others are simply pop rock, but all of them work into the show's plot. Songs from the following artists are featured in the play: Asia, Bon Jovi, David Lee Roth, Poison, Extreme, Mr. Big, Night Ranger, Quiet Riot, Twisted Sister, Warrant, Whitesnake, Foreigner, Journey, REO Speedwagon, Styx, Steve Perry, Pat Benatar, Quarterflash, and even Survivor!
Even though the music gives the show its gusto, it's actually responsible for my only complaint. The musical is made up of storm trooping assembly of songs that only a late night CD box set infomercial with Bret Michaels could envy. The massive list of songs are finely weaved into the plot like the hairs on Bret Michaels head. Some of my favorite rock classics are featured in the show, so what's the problem here, Jay? Some of the songs seem to be overused. I heard enough of Warrant's "Heaven" when I sang along with it daily back in '89. (By the way people get with the program! Jani Lane is OUT of Warrant again! That news didn't interrupt your local affiliates broadcast of the last presidential debate? That's weird because on my TV Riki Rachtman broke in just before McCain said "Joe the Plumber" for the 68th time and broke the news) Twisted Sister's "I Wanna Rock," and a few others seemed to be utilized several times at points when an original riff would feel more natural. Rock of Ages might benefit from sprinkling in a few original tunes in between the massively popular ones. How about an original Arsenel song? Arsenal, for those who don't know, are the '80s rock band that is asked (blackmailed) to play at the Bourbon room to save the bar. (CD in stores now)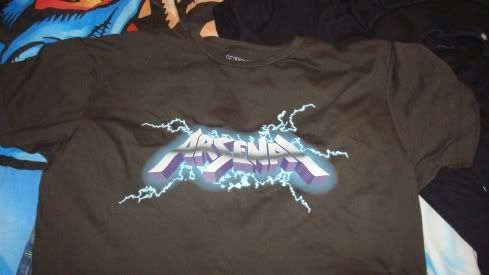 I'm a sucker for a T-Shirt, especially those emblazoned with a logo for a fictitious band. If the band happened to be from Jersey then I might just spontaneously combust. Whenever I go to a show or concert I look for that specific T-shirt that jumps out at me literally, and seduces me with a one liner like: "I wanna be on you…" After the show I strolled by the schwag station and almost yelped like a fat girl who can't keep a secret and got a hand over her mouth. I then blacked out for a moment and came to. In my hands was a sparkling, magical, authentic ARSENAL concert T-shirt. Of course, the logo rips off Anthrax and Metallica but c'mon, what do you expect from a fictitious band! It was brought to my attention that if I looked at the back of the shirt, all the stops listed for their Cocked and Loaded tour are in New Jersey towns!
How RAD is that? And I don't mean that in the Rock Against Drugs type of way. (That line I just ripped off was courtesy of Drew, Constantine's character) Is Arsenal supposed to be from New Jersey? Perhaps that's why Stacee Jaxx, while adorned in white spandex, unleashes a perverted, priceless rendition of Bon Jovi's "Wanted Dead or Alive"? I'll take it!
After you check out Rock of Ages, you'll be thanking me. You too will come to appreciate the many facets of "Rusty Trombonering," Warrant's "Heaven," and the atmospheric appeal of the Fogmaster 5000. Your arms will be super strong after holding up that keychain flashlight in place of a lighter during ballads. Oh, and you'll also be thanking me because you scored points with your girlfriend. Theater tickets are a better gift idea than the run of the mill stuff, so buy her a pair of tickets for the holidays! For you ladies out there, your boyfriend will be elated that he can bring beers and adult beverages into the theater. That satisfies the alcohol lovers and those yearning for a true '80s sunset strip vibe.
Writer Chris D'Arienzo, Director Kristin Hanggi, and Choreogrpaher Kelly Devine are responsible for making Rock of Ages a play that feels like the kind of movie you watch a million times and remember all the dialouge. Keep in mind that you can only own a DVD for several generations, Rock of Ages the musical is off-Broadway NOW, so don't miss out! Oh and some advice from Lonny the narrator: before you head to the show, if you'd like to make your experience more authentic you may want to set yourself up with an eight ball of crystal meth and get a sixer of Diet Shasta. Dude, it's amazing.
Jay and Adam Dannheisser "Dennis"