At the 11th hour, on the 11th day of the 11th month (there's that number again!) World War 1 came to an end. 11/11 is now celebrated as Veterans Day, and in a completely unrelated coincidence…The Sexy Armpit's birthday! Woooo-hoooo! The Big 0-4! I've taken the liberty to have Chef Allen of the Royal Palace whip up a special treat for all of us to enjoy. I figured it would help us celebrate such a momentous occasion!  
Jay:
Yo, Chef Allen! Why don't you have your guys roll that big mofo out here…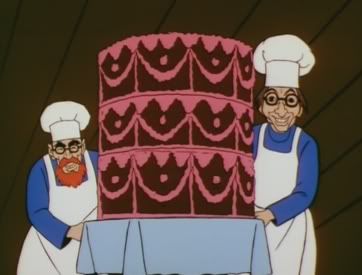 King Randor:
Don't you think this ridiculously sized cake is a little much for only a 4 year anniversary?
Jay:
 Awww yeah! That's the way we do it sucka! Hey Adora…are you impressed by it's size? They say the size of a man's cake is an indication of…
(all of a sudden there's a blinding flash of light and a cool beaming sound effect)
Holy Shit! What the hell was that? Damn, I was just trying to enjoy The Sexy Armpit's 4-year anniversary and you had to make it an exploding cake didn't you Chef Allen? You mutha-
Jay:

 DID SKELETOR AND HORDAK JUST JUMP OUT OF MY CAKE? Oh man, I can't think of a better present, thank you all so much! They were my favorites growing up. Hey guys…when's your little strip dance? You are here for that aren't you? That's usually what happens when people pop out of a cake, especially gigantic pink frilly ones! Now I think you're obligated, you owe it to these fine people. You can't let them down now! At least Kobra Khan cause he's probably got

some

trouser snake…umm, OK…I guess I'll shut up now…