The recent climate in the world of toys is all about capitalizing on the older, harder to please collector. Toy companies such as Mattel and Hasbro blatantly pander to hardcore collectors. I do appreciate the recent innovations, but I don't believe that toy aisles should be filled with such expensive, delicately crafted action figures that belong in the Smithsonian rather than a milk crate in my '80s den. I stick to the basics and would be more apt to buy something that looks fun to own rather than a dust collector. I am interested in collectible statues and busts, but they have no place in toy aisles.
One of the prime culprits is DC Comics whose action figures really stepped up their game and their prices. Not to sound like an old fogey, but I recall days as a kid when I could literally buy 6 action figures on clearance for $2 or $3 bucks. Nowadays ONE Star Wars Clone Wars /Legacy action figure costs OVER $6 bucks! Regardless of inflation, is this tiny piece of plastic worth that kind of money? I say HELL NO, It's a toy for fuck's sake! If I was a kid right now and had some money saved from birthdays or allowance cash, I'd break the bank if I had to pay $7 bucks for ONE action figure. This is a shitty time for toys if you ask me. Sure us geeky dudes get all wet in the pants when we see a really cool rare character get a highly detailed treatment, but what do we actually do with it? The minority of us are actually using them to act out a storyline, and if you are, I commend you because at least you're getting your money's worth.
Even with my efforts of keeping up with the latest toy and collectible news, these new DCU Infinite Heroes Crisis 3- packs somehow zoomed passed my radar. I'm glad I got a hold of this set at Target this weekend. Here's the 3-pack which includes Powergirl, Superman, and Supergirl:
It's pretty sickening that I spent $16 bucks this set. That price breaks down to about $5 bucks per figure, which is far from a bargain especially in the dismal economic climate. What caught my eye about this set is the figure's smaller size. Too many figures today are being made too big. My first action figure memories come from Star Wars and Super Powers figures, both small in size, and both made by Kenner. My taste in toys has been influenced by those two toy lines in a major way. This set brought me back to those days. Even though they're small in size, they're detailed, colorful, and seem more collectible than a 6 inch figure. In addition, buying smaller figures in 3-packs is more exciting than just buying them seperately.
My only gripe with this series is that this is the only 3-pack that I NEED to have among the ones available because Superman looks awesome and Powergirl and Supergirl look super sexy fine. In the other sets, Black Canary, Starfire, and Raven could stand to look way hotter. This is the problem with dating action figures, they don't slut it up enough.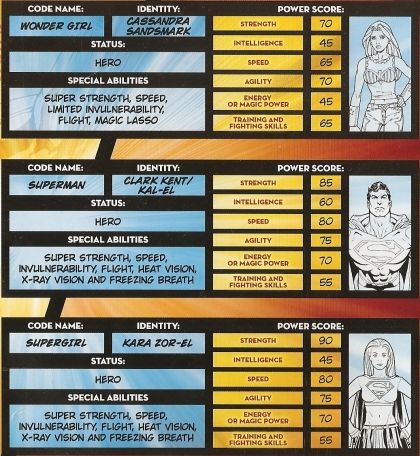 Even though I'm not an anal toy collector, I do keep up on the latest action figures and toy trends by reading these sites (among others) so check them out when you get a chance: