No these ladies haven't been featured in Playboy, but if they are a) hot, and b) from New Jersey, live in the state, or have lived in the state at one time, then they'll be featured in this new column here at The Armpit called "Garden State Playmates." GSP spotlights well known female personalities including actresses, musicians, models, porn stars, and whoever else I deem deserving of this exalted honor. 
Congratulations to the
first ever
GSP, Ashley Tisdale! Considering the fact that many of my readers have children who like Ashley Tisdale, let's not make this weird O.K? Here's some facts about Ashley thanks to the assist from Wikipedia:
– Ashley was born in Monmouth County, NJ and grew up in a ritzy part of Ocean Township.
– Her Grandfather created
Ginsu knives
and she's also related to "Set it, and forget it!" Ron Popeil. That's most likely where they had the money to live in Ocean Township.
– She appeared in over 100 commercials as a child. Can you say "showbiz mom" ???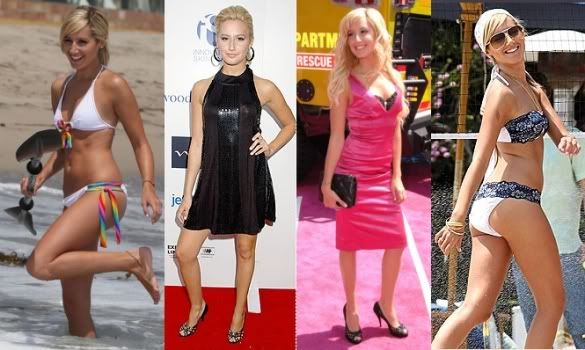 – In the
High School Musical
series, the name of Tisdale's character is Sharpay Evans. I don't know about you but that name makes me want to puke.
– Had a small role in Richard Kelly's awesome film,
Donnie Darko
.
– She is the face of Degree Girl deodorant, and hopefully she uses it liberally. She's got to keep those armpits
sexy
if she wants to keep her title of GSP.
– Has her own "Ashley Doll" made by Huckleberry Toys: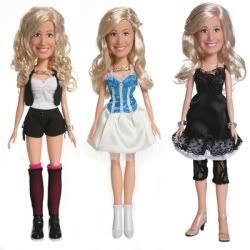 – Claimed that her nose job was a necessary health precaution due to a deviated septum that was interfering with her breathing. Ashley told People magazine that she wanted to be honest with her fans. If she really was being honest she could've said that she hated her nose and she would be more successful if she had her nose fixed.
– In '08, Tisdale ranked #6 on Forbes list of the "10 Top Paid Tweens" with $5.5 million earned. She also ranked #17 on Forbes list of "Highest Earners under 30" which is a list that, shockingly, I was left off of.
– As far as I know, Tisdale has
not
followed in the footsteps of her High School Musical co-star Vanessa Hudgens, who snapped naked photos of herself in a cheap stunt to boost her career. Perhaps a strategic career move like that would benefit her? What do you think? Would dirty pics of Ashley Tisdale sink Vanessa Hudgens battleship? Does anyone even care about Vanessa Hudgens?