Nearly 14,000 fans packed into Jersey City's Roosevelt Stadium for KISS
"KISS: The Lost Concert" DVD is not authorized by Gene Simmons, but that didn't stop The Sexy Armpit from getting his hands on it. While the KISSology DVD collection included a ton of rare footage, concerts, and videos that I'm glad to own, that series neglected to include many important shows in KISSTORY. One of those shows took place at Roosevelt Stadium in Jersey City, New Jersey on July 10th, 1976. Fortunately it was "…discovered, restored, and remastered" by Passport Video in 2003 and it's a must buy for those of you KISS Army members who are also certified New Jersey geeks like me.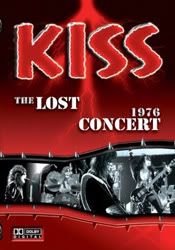 Gene Simmons always mentioned that he had tapes of every KISS show stored in the "KISS Vault." This may not be true since this "Lost Concert" wasn't a priority for the band to release to the public, so it is possible that KISS did not have a pristine recording archived of this show. For 34 year old footage, The Lost Concert provides a high quality black and white picture with an excellent audio track. But that's not the best thing about this DVD, what's even cooler is that this specific concert is special for other reasons.
On KISS' "Spirit of '76" tour, the costumed NYC band was on the verge of becoming permanently embedded into popular culture. It was fitting that they played at Roosevelt Stadium since it was a grand venue for presenting one of KISS' explosive shows. The stadium, named after Franklin D. Roosevelt, opened in 1937 and was demolished in 1985. There is an elite list of concerts that took place there during it's existence, and fortunately KISS is on that list. Prior to being KISSED, the stadium was known for holding sporting events ranging from baseball, boxing, and football games, some of which are legendary.
Here's the set list:
1. Cold Gin
2. Do You Love Me
3. Watchin' You
4. God of Thunder
5. Flaming Youth
6. Firehouse
7. Black Diamond