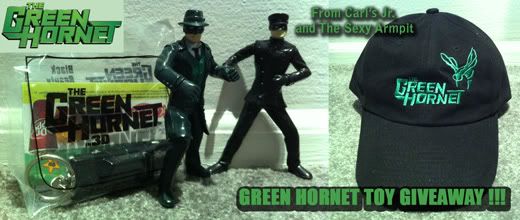 TO ENTER THE GREEN HORNET GIVEAWAY:
1) Simply email sexyarmpit@comcast.net
2) SUBJECT: HORNET
3) Name and address
Winner will be chosen at random through a number generator and announced on 4/1/11.
Winner will receive:
– The Green Hornet and Kato figures 
(it must be mentioned that the paint job isn't so hot on Kato's mask, but hey, it's free, so no complaining!) 
– You'll also receive the Black Beauty Key Chain
– Green Hornet Hat  
Recently I ripped on Carl's Jr. but I am striking those comments from the record. They had originally claimed to be sending me some of the Green Hornet tie-in toys they were offering in their restaurant, but they didn't come through. I was pissed off at them and made it known through an angry post which can be read here. Much of the reason why I was fuming was because there are NO Carl's Jr. restaurants on the east coast, which is why it was difficult for me to get my hands on the Hornet toys during the films premiere. I knew I could wait for them to go on ebay, but it was obvious that I'd be paying up to $10 bucks per toy or probably more.
In the end, Carl's Jr. came through and worked everything out with me. They were nice enough to not only send me the Black Beauty key chain as well as an awesome Green Hornet mini poster. Also in the shipment was an extra set of stuff for a giveaway! Thanks so much to Carl's Jr. and hopefully one day they'll open one of their restaurants in Jersey!