Who's known for being naked in the movie Notorious? Naturi Naughton that's who! The native of East Orange, NJ and former political science student at Seton Hall University has come a long way since being a member of the R&B group 3LW.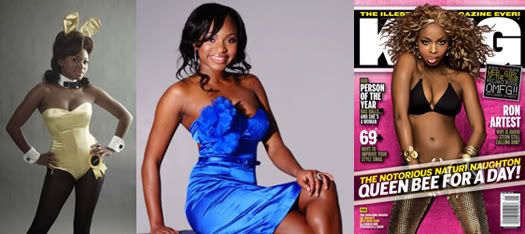 Naughton's role as Lil Kim in the film Notorious about the life of late rapper Notorious B.I.G included several nude scenes. Showing skin is usually the easiest way for actresses to gain attention in Hollywood and it seemed to work for Naughton. Following her portrayal as Lil Kim, roles in the remake of Fame, in which she recorded her own version of the title song, and the comedy Lottery Ticket followed.
An appearance as a Playboy Bunny on an episode of Mad Men foreshadowed her role in the new fall season on NBC. Premiering tonight, you can catch Naughton starring in NBC's The Playboy Club as, Brenda, a bunny with aspirations of being the first African American centerfold. The show takes place in 1963 at The Playboy Club in Chicago.