Can you hear the bells jingling? I sure can. I also hear
The Boss
singing those iconic lyrics "You'd better watch out, you'd better not cry, you'd better not pout I'm tellin' you why…
Schlatter
Claus is Comin' to Town…
Schlatter
Claus is Comin' to Town…Schlatter Claus is Comiiin' toooo town."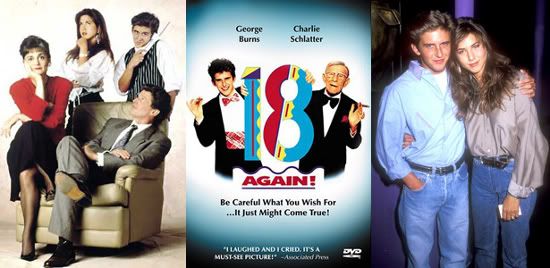 During the Christmas season there's plenty of jaded kids all around the world who are questioning the existence of
Schlatter Claus
. After the short lived Ferris Bueller TV series left a bad taste in people's mouths, Schlatter Claus went into hiding. I really don't know why he was so ashamed of himself, I thought the show was pretty damn good. I remember watching it and that's where I first saw Jennifer Aniston. When
Friends
became mega popular I used to say, "Hey isn't that Jeannie Bueller?" But, I wouldn't go so far as to say that Jennifer Aniston is more popular than Charlie Schlatter because that would be completely untrue. OK, so Jennifer Aniston makes it onto the front cover of People magazine, big deal. Literally billions of kids around the world write letters and fan mail to Schlatter Claus every year, so I'd say Schlatter Claus wins that one hands down. I also had a huge crush on Ami Dolenz at the time, but I should stay focused or I'll go on a tangent about how funny it would be to have a Monkee for a dad. Alas, I'm here to tell you that Schlatter Claus is 100% f-cking real, and he actually IS coming to town! Well, only if you have a DVD player or Netflix that is.
My man Schlatter Claus was born in Fairlawn, NJ (Englewood, NJ in IMDB), but he's not just stopping in Jersey to drop off gifts, he's making sure he visits all of your homes this Christmas. You don't even have to rely on him coming only ONE day a year because he's starred in a enough memorable '80s TV shows and movies to entertain you, not only during Christmas time, but all year long. His film credits include
Bright Lights, Big City
,
18 Again
(step aside Zack Efron!),
Police Academy: Mission to Mosco
w,
The Delinquents
, and even
Miss Cast Away
featuring a cameo by Michael Jackson. Schlatter went on to concentrate on doing voice work in animated shows such as playing
The Flash
in
The Batman
and
Superman:The Animated Series
as well as various other characters in cartoons such as Sonic the Hedgehog, Captain Planet & the Planeteers, Kim Possible, Bratz, Butt Ugly Martians, and Loonatics Unleashed. Schlatter Claus also voiced characters in a slew of video games like Spiderman 3, Metal Gear Solid 3, Everquest 2, and Punisher. Remember kids, Schlatter Claus will only come to visit your house if you've been good girls and boys, so you better be good for goodness sake, and that means NOT insulting the Ferris Bueller TV show!