I'm surprised and excited to see how many houses have been decorated for Christmas this year. On my way home from work every day, I pass through so many towns and as Paul Stanley says "They're lit up like a damn Christmas Tree!" It seems like there's more Christmas spirit in New Jersey this year than ever before. Whatever the reason is, it's an excellent feeling! People's displays have grown more elaborate and creative. In fact, while riding through Fair Haven, NJ last weekend we saw this Corvette parked on someone's lawn: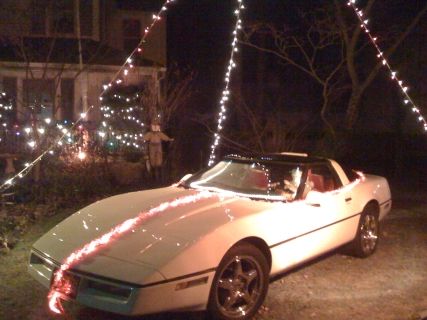 Take a closer look and you'll see Santa behind the wheel about to take the 'vette out for a spin:
That's a pretty awesome lawn decoration if you ask me. I don't think you'll be able to pick that one up at Wal-Mart!
For all the good that Santa's done throughout time, I still don't think that's enough to make me let him borrow my Corvette to deliver presents. We have no idea what kind of driving record he has. They could drive like assholes up in the North Pole. If the elves get licenses then I'll give a definitive "NO" on that one. Besides, isn't St. Nick all tanked up on spiked Egg Nogg he drinks at houses all over the world? Isn't that what makes him so jolly in the first place? We wouldn't want him getting a DWI, so let's have him stick to flying around in his sleigh. 
JAY:
You're not getting my keys, Santa! 
SANTA CLAUS:
Ho, Ho, Ho, we'll see about that! How bad do you want that PS3 for Christmas?!?! Ho, Ho, Ho!
JAY:
I'll forget about the PS3 for now, just as long as you don't crash my beautiful Corvette and turn it into a red and white yuletide mess. Oh, and toll prices just went up so it'll be cheaper if you hop in you're sleigh.
SANTA CLAUS:
Ho, Ho, Ho! Jay, I'm going through a mid-life crisis times 3. Can't I just take the 'vette for a few minutes? Mrs. Claus never lets me have ANY fun. She took away my copy of Transformers on DVD because she said I was staring a hole in Megan Fox. I'm not even allowed to go to Hooters up in the North Pole. And if you haven't noticed, all of Santa's helpers are all gay males. I lead a sad, boring life. C'mon, help a brutha out.
JAY:
OK, OK, but you're going to owe me BIG time if you crash it!
SANTA CLAUS:
Yeah right, after I got you everything you asked for every Christmas? Batman, He-Man, WWF, Star Wars, Thundercats, I gave it all to you! You weren't that good this year anyway! So I owe you nothing bub! 
JAY:
You know what Santa, you can f—ing walk!
Friends don't let Santa Claus drive drunk.

A Public Service Announcement from the Ad Council and Mrs. Claus.