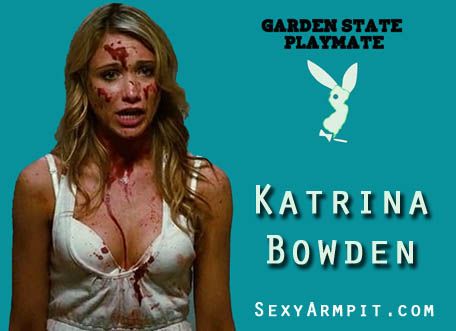 We don't look at the gross side of things here at The Sexy Armpit nearly enough. That's why I wanted to change it up a bit for this month's Garden State Playmate. Wealthy/snobby town Wyckoff, NJ not only spawned the Jonas Brothers, but also actress Katrina Bowden. She may have been voted Esquire Magazine's 2011's sexiest woman alive, but is she really? Before we go ahead and crown her Garden State Playmate take a look at the picture below, does she look sexy there? Haha, well that's just from a movie where she projectile vomits (sexy!) in 3-D,
Piranha 3DD
, which was completely ridiculous…ridiculously
awesome
that is. It's got David Hasselhoff and David Koechner (you know him as Champ Kind from
Anchorman
), and piranhas escaping from Katrina Bowden's crotch. So maybe it's the ambitious roles that Bowden chooses that makes her sexy, or is it the fact that she's a spoiled Jersey girl with a snotty attitude? Does she make you want to puke or feel kinda funny? You tell us!
Bowden looks like a cross between the girl next door and an emaciated blonde model type. Eat some White Castles will ya? She's got the lock on roles that require her to be as dumb as a rock like her character Cerie on 30 Rock in which she accentuates her great comedic timing, among other things. Recently, she's starred in the latest installment of the American Pie franchise, American Reunion and the TV series New Girl. Out of all her roles I recommend checking her out as Allison in 2010's Tucker and Dale vs. Evil a kickass horror/comedy, which, aside from 30 Rock, is her best work thus far. Don't get your hopes up fellas, she's engaged to NJ musician Ben Jorgensen of the band Armor for Sleep.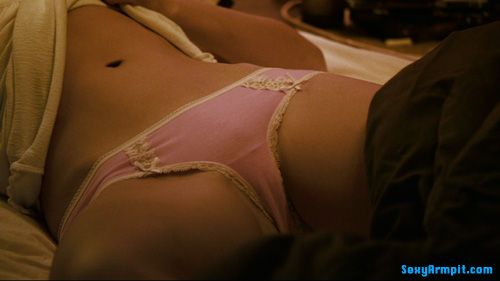 Katrina Bowden Cameltoe from Piranha 3DD…just sayin'
[youtube http://www.youtube.com/watch?v=Uq8WVBc3ac8?rel=0]