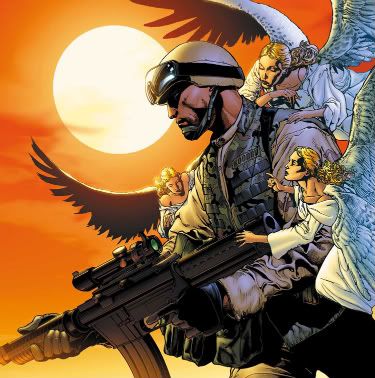 This week Kip Winger Thursday kills two birds with one stone. Kip and NJ all in one.
In 2006, Kip Winger called upon comic book artist Ethan Van Sciver to create the cover art for Winger's album, IV. The art was also released for sale in poster form.
In an interview on Comics Bulletin, Van Sciver reveals that he was born in Utah but grew up in South Jersey! He also admitted to having some unfavorable jobs in the art field before becoming the prominent comic book artist he is today. He told Comics Bulletin that he "…took a much envied job at the Cherry Hill Mall as a caricaturist. I had to wear a tuxedo, but I was 'Goth', so I also wore eye-makeup and a big clunky ankh around my neck, just under my bowtie."
In addition to his own creation, the Cyberfrog comic book series, Van Sciver has worked on comics for DC and Marvel including Batman, Flash, Green Lantern and X-Men. Recently he's done work on The Flash Rebirth and Blackest Night series for DC comics.