"Nobody Leaves This Place Without Singing The Blues."
– Albert Collins, Adventures in Babysitting
This isn' the f–king Partridge Family. That's what crossed my mind as the screen was ignited by The Perfect Age of Rock and Roll, the next classic rock and roll road film and winner of Outstanding Achievement in Filmmaking at the 2009 Newport Beach Film Festival. I was honored to have been present at a private screening of the film where I sat with the director and writer Scott Rosenbaum, producer Joseph White, and cast members including blues legends Hubert Sumlin and Sugar Blue. Their presence made the night unforgettable as the film affirms that rock and roll is merely the bastard child of the blues.
It's the early '90s and Spyder is the lead singer of The Lost Soulz, a mega famous rock band. Their first album was made up of songs Spyder stole from his best friend Eric who he left in the dust and moved out to L.A in search of fame. Without his songs, the second Soulz album tanked. The bands 15 minutes has almost ran out, but they have one last chance to redeem themselves. Oh, but there's one thing, Lando Calrissian is their record producer! "How you doing, you old pirate? This contract is getting worse all the time!" OK, so, Billy Dee's not actually Lando, he's Ace Millstone and he's not messing around. He wants the third Soulz record completed on time or they'll be dropped from the label and vanish into obscurity. They can sure as hell forget being inducted to the Rock and Roll Hall of Fame, although they probably wouldn't be eligible anyway since they stole all their hits songs. Sucks for them, that's some predicament.
Forcing legs into leather pants can usually be quite a challenge, but Kevin Zegers (Dawn of the Dead, TransAmerica) slips into Spyder's pair with remarkable ease. In a moment of desperation, Spyder, a Gerard Way looking dude with more mental issues than Brian Wilson watching Donnie Darko, sucks up his pride and flies back home to Long Island to visit his eternal best friend and former band mate, Eric. Son of a legendary deceased rocker, Eric is a shabby music teacher played by Jason Ritter (Freddy vs. Jason, W.). Spyder proposes that Eric join the band as their guitarist and they put the misty mountain of songs that he's written to good use. After the hard sell, Eric reluctantly accepts under one condition, they drive cross country back to L.A while getting their kicks on the legendary Route 66.
Since Eric's dream of touring the country and experiencing the rock and roll lifestyle was ripped away from him, he's making this chance count. We're invited along for the ride in a tin lizzie of a tour bus, which is one step above the Wagon Queen Family Truckster. As the Soulz pass through the states rolling down the highway, they encounter sex, drugs, booze, and even a lesson in the blues from Sugar Blue and Hubert Sumlin.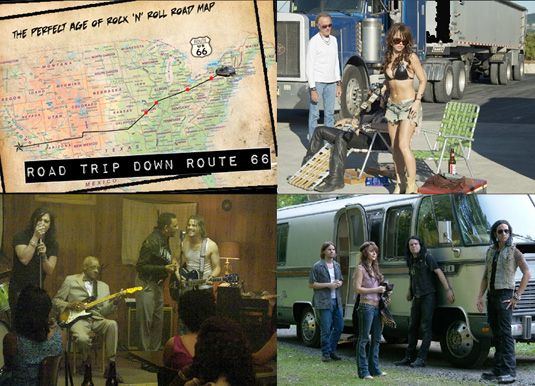 If you're planning on taking the whole band cross country, Peter Fonda is YOUR bus driver! In an amalgamation of many of his classic roles, Fonda's Auggie West acts as a mentor to The Lost Soulz. Auggie's been down this road before and attempts to steer Eric and Spyder clear of drugs and band breakups. Fonda's comedic ability is impressive as a timeworn hippie stoner attempting to nurture a new generation of counterculture. While navigating Route 66, Auggie frequently displayed his world of musical knowledge by challenging the band and their manager Rose (Taryn Manning), to "name that tune." It was goofy fun, but also his inherit shot at enriching the band's musical prowess.
To illustrate the erratic Axl/Slash relationship between Spyder and Eric, Rosenbaum intertwines classic rock songs with striking visuals. The Lost Soulz tracks were created for the film by members of The New York Dolls and composer Andrew Hollander. Zegers and Ritter actually sing on these tracks. In addition to classic rock songs, you'll hear old blues classics that have later been covered by modern bands. The filmmakers captured several intense scenes depicting the temptation, allure, and consequences of the rock and roll lifestyle which are accentuated through vivid camerawork, sharp editing, and the carefully chosen soundtrack. Rock films often succumb to looking awash in colored filters, fuzzy effects, and nausea inducing jump cuts, but thankfully, this is not one of them.
The musically adept cast bring the scenes to life like they're strumming a Strat. Taryn Manning (Crossroads, 8 Mile) is the Soulz manager Rose, and Lukas Haas (Lady in White, Mars Attacks) stars as Clifton, a writer for Revolver magazine. Manning is in a band called Boomkat and has starred in Butch Walker's "The Weight of Her" video, while Haas has appeared in music videos by My Chem and Death Cab, and also plays drums in a band called The Rogues. The onscreen rhythm section of The Lost Soulz consists of bassist Bixx played by Jasin Cadic, co-writer of the screenplay, Edison NJ native, and musician in the band Handful of Dust. Drummer Bonzo, is actually Marty E. of
The Dirty Pearls
, the reigning kings of NYC's rock scene
. Director Scott Rosenbaum, also a drummer, told me about Marty's key role in the film, "There is nothing worse than a movie performance of a band where the actors can't hold their instruments and the drummer looks like he's mixing a cake. It's obvious and it sucks. Marty kicked ass."
Being a New Jersey aficionado, I was thrilled to discover that many scenes in P.A.R.R were filmed here. The production company set up their H.Q in Rahway and used several locations around the state including Burlington County, Marlboro, Montclair, Newark, Westfield, and Cadic's Grandmother's house in Edison. "Montgomery Township was awesome to us! The mayor even came down to the set!" said Producer Joseph White. The Starland Ballroom in Sayreville and The Colorado Cafe in Watchung also served as backdrops for Soulz concert scenes.
P.A.R.R is the inspiration of its writer and director Scott Rosenbaum. He's crafted an intrepid film that, as of press time, is seeking a distributor. Producer Joseph White indicated that the distributor "should care as much about rock and roll and the blues as we do." It's clear that the filmmakers are music buffs thanks to various references strategically planted in the film like hidden Mickeys at Disney World. Even the title of the film alludes to the "27 club," a list of musicians who died at 27. The closing credits feature vintage clips of some of its members like Morrison, Joplin, and Cobain.
The film left me with the impression that our video game culture controlled by plastic wireless instruments is in dire need to be versed in the feelings that incited musicians to create Rock and Roll in the first place. If you've ever stood in front of a Marshall stack and "let the sound take you away" or "played until your fingers bled," then this movie was made for you.
Jay Amabile, www.TheSexyArmpit.com