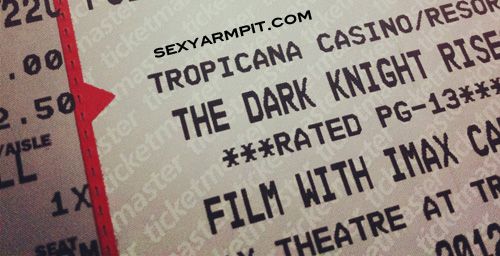 Dark Knight Rises Tickets
These have been burning a hole in my pocket since June 11th. I'm almost in disbelief that it's a little over a WEEK away! The wait is finally over!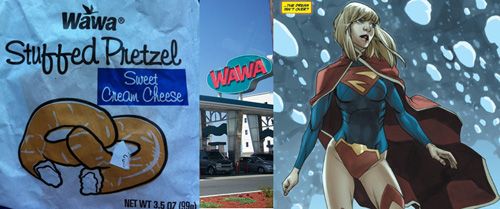 Wawa
If you're from Pennsylvania or New Jersey then you are most likely familiar with the greatness of Wawa. During our recent trip to Wildwood, Miss Sexy Armpit and I stopped at the Doo-Wop styled Wawa to get our favorite sweet cream cheese stuffed pretzels that they make. I'm not a big preztel guy, but this thing is so delicious. I also ordered a banana smoothie which was very simple: it's basically made of ice, a dairy blend, and 2 bananas. It's the best banana smoothie ever. If you are lucky enough to have a Wawa by you they also sell all kinds of coffee, subs, breakfast sandwiches, and some of the best iced tea around.
Changes to Supergirl Costume
I'm usually the guy who opposes the unnecessary modifications and modernizations of superhero costumes. In 1989 when the first photos of Michael Keaton's Batman costume were released I wasn't even phased because it looked so friggin' cool. It was a major change color-wise, but it was still extremely faithful to the traditional bat-costumes through the years. One costume I never ever thought should be changed was Superman's. In the upcoming Man of Steel movie his costume has been tweaked to make it seem more realistic and modern like they did in Batman Begins. I still can't get used to such drastic changes. Don't get me wrong, I am all for the characters evolving with the times, but sometimes I feel like changes are made just for the hell of it. In the newest Supergirl comic book line from DC Comics, she has a more modern look as well and surprisingly I'm not against it. The deeper I got into the series the more I thought the costume was cool. What do you think? Yay or Nay?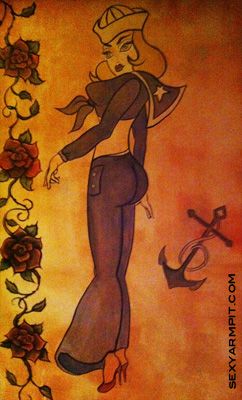 Men's Room – House of Blues, Atlantic City
Usually going to a public bathroom isn't too exciting unless you're going in there for purposes other than actually using the facilities. While it's not anything as upscale as the Borgata or Water Club, the
men's room in the House of Blues in Atlantic City kept me distracted for several minutes as I stared at all the pinup and retro tattoo style art on the walls. Pictured above is a glimpse of a cute sailor girl on the wall near the entrance.
Fixation with 1980s Burger King
Unlike most of my friends when I was growing up I always preferred Burger King over McDonalds. My Dad used to take me to the BK at the old pre-90s Menlo Park Mall and I absolutely loved every second of it. To say I miss the old look of the exterior of BK is an understatement. I wish they'd bring back their old logo and the uncreepy version of the Burger King who did magic tricks. I still have my BK doll with the "incredible" disappearing hamburger trick.
Squinkies
I did the best I could. Actually I'm lying. I didn't. I gave a feeble attempt at resisting Squinkies but I just couldn't do it. It's not an all out obsession either. I'm not even interested in the G.I Joe or Star Wars Squinkies – only the WWE series. A couple of my favorites are pictured above, heading in to get some Whoppers at my '80s BK model. For being such minute bits of rubber they are highly detailed with comical and often flat out absurd facial expressions and likenesses of the real wrestlers. They remind me of the simple and stupid crap toys from the red nickel machines (or are they quarter machines now?) you see when exiting Toys R Us.