A few friends have asked me what kind of cool stuff I got for Christmas. I told them that in due time they'll be able to read all about it at The Sexy Armpit. See, that's the beauty of having a blog. I avoid having to rattle off the same list of things at different times to handfuls of people. I decided to incorporate a run-down of some of the awesome 2012 Christmas gifts I got into one of my favorite columns here, the Great Geek Gorge.
I can't say that I actually had anything specific that I wanted for Christmas this year, but I did indeed drop a few hints at some items that were bouncing around in my brain.
It's hard for my family and Miss Sexy Armpit's family to buy me any kind of media. Buying me a DVD or a CD will usually be futile since I have thousands of them and it will most likely be a duplicate. I'm maturing a bit though. Or should I say I've been practicing restraint? I waited on buying The Dark Knight Rises and the WWE's C.M Punk documentary on Bluray because I knew Christmas was coming up, so I threw that idea out there to Miss Sexy Armpit and her mom got them for me! It was like magic.
Miss Sexy Armpit did a great job picking up cool gifts for me as always. She got me a Batman plush "pillow" and throw blanket. I don't see how the plush doll is a pillow but maybe since it's geared toward boys they didn't want to explicitly describe it as a doll or plush toy. Either way, it's pretty awesome and I had a similar Superman doll like that but from the Knickerbocker company when I was a kid.
Before I get to the big crowd-pleasers there were a few things that I didn't ask for, but I was still very happy to receive. First I got an awesome black cross with a diamond in it on a chain as well as a pair of work out pants. There was also an awesome K'nex KISS set, a USB salt rock lamp for my desk, and a knit hat with ear buds built in. Then, there aren't many other ways to describe it but here it goes – a Coach "man purse," It's more like a mini backpack, but really there's no other way around it. At the end of the day it's still going to be referred to as a man purse. It's pretty swank though. It's a step up from my old TV Guide duffel bag that they sent me for free. I can understand not wanting to be seen in public with a guy carrying that around, especially while on vacation.
For those who know me or follow me on Twitter (@sexyarmpit) I've been obsessed with A&E's Storage Wars for the last few months. I'm not into the other variations on the show, just the original incarnation. My favorite is Barry Weiss – that guy cracks me up. He always puts on these black skeleton gloves before he picks stuff out of lockers and I wanted a pair of my own.
The gloves and the next item you'll read about were the only items I actually threw out as ideas for Christmas. I was a little sad that I didn't get the gloves after my girlfriend and I exchanged gifts, but then, soon after, I was ecstatic when Miss Sexy Armpit's mom got them for me!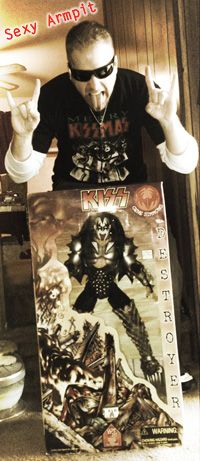 One KISS collectible that I always wanted but never got my hands on was a limited edition 24-inch Gene Simmons statue by a budding (at the time) New York toy company called Art Asylum. The statue was part of the full band collection and created in the comic book style of the Destroyer album cover art. When pushed in, the statue's base plays "God of Thunder." The 24 inch line was sold at Spencer Gifts in 1999 and they each retailed for about $150.00. Back then it was too pricey for me. Nowadays a full set mint in box would probably go for close to $1,000. although I'm no Toy Hunter. Jordan Hembrough would probably ask $1300!
Around the time their big comeback record Psycho Circus, the KISS craze was on again worldwide. Toys, t-shirts, and comics filled stores like Spencer's and KISS fans were going nuts buying everything in sight. The 24 inchers were the highest quality figures at the time, but with KISS fans you have to pick and choose what to spend money on, especially back then. There were concert tickets to be purchased, and plenty of other items that I lusted after, so I tried to ignore the most ultimate Gene Simmons figure I'd ever seen. Then, years later, at KISS cons and on eBay, the prices increased a bit.
Aside from my KISS fountain that spews blood out of Gene's mouth, dubbed "The Gene Simmons Vomitizer" by Sebastian Bach on an episode of MTV Cribs (which coincidentally Miss Sexy Armpit ALSO got for me for Christmas one year), this giant limited edition figure is the Holy Grail of Gene Simmons collectibles in my opinion. It was hot on my mind and I figured I'd tell Santa, Miss Sexy Armpit, or anyone who would listen that I wanted this giant Gene for Christmas. So what if I was 14 years late on the mark?
Miss Sexy Armpit came through and continued to feed my KISS habit! She also came up with the idea to customize a pair of Sexy Armpit sunglasses for me. These are very cool pilot style sunglasses made by a company called Vaunt – check them out! The Sexy Armpit logo and name are etched into the lenses! The company can put anything you want on the lenses so it's a cool gift idea!
Thank you to everyone who made this Christmas kick ass for The Sexy Armpit!